Dear Happy Investor, buying high dividend stocks can be interesting for passive income or cash flow generation. However, high dividend stocks are not always a good long-term investment. After all, companies do not invest these dividends in business growth, which is not always conducive to continuity. Yet there are also interesting high dividend stocks to be found for both the short and long term. 
Below are 5 high dividend stocks to buy now. The entry moment seems right now because of its favorable relative valuation and other investment aspects.  
Please note that this article is purely for inspiration and in no way contains buying advice or personal investment advice. It is necessary to make careful analysis before making risky investments.
Petroleo Brasileiro S.A. (PBR)
Petroleo Brasileiro S.A. (PBR), also known as Petrobras, is an oil company in Brazil. The shares of this company have a particularly strong relative valuation in relation to other oil stocks. In addition, it is a given that oil, like many other commodities, is likely to continue rising in price in the short term. This price rise, combined with the cheap share price, could lead to further price appreciation. 
Currently, Petrobras pays an annual dividend of 6.8%. For next year, 4.6% is expected. There is little to no dividend history, implying that this company is not an interesting long-term dividend stock.
And, although management has announced to pay down corporate debt, the current debt is still around 47.6 billion. The high debt position is a reason not to buy this high dividend stock. 
Why would you want to buy PBR as a high dividend stock though? 
- Very strong relative valuation. PBR can be an interesting value stock
- Attractive dividend (although probably not consistent)
- Strong momentum, both the stock and the industry
- There are many oil reserves in Brazil
Further analysis is necessary to determine if PBR is an interesting stock within your portfolio. Keep in mind that this may likely be a more short-term investment.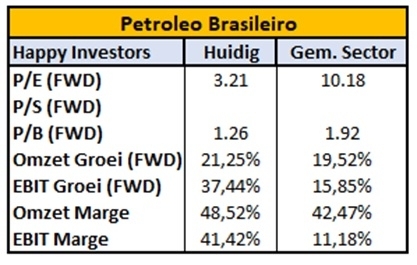 Altria Group (MO)
Altria Group (MO), unlike PBR, scores very strongly on the dividend aspect. For example, it has been paying a high dividend for many years. Currently, it is 6.97%. Moreover, MO scores strongly on dividend growth and consistency. It is likely that this company can sustain its performance over the medium term, given the high profitability of its earnings model. However, there are concerns about annual growth, which is logically lower for stable high dividend stocks. Another concern for the long term is the viability of the sector (Tobacco). Moreover, there are better stocks to buy within the Tobacco sector than high dividend stock MO.
Altria Group is an excellent high-dividend stock overall, but we foresee better stocks with better price returns. Get instant access to our best stocks to outperform the market.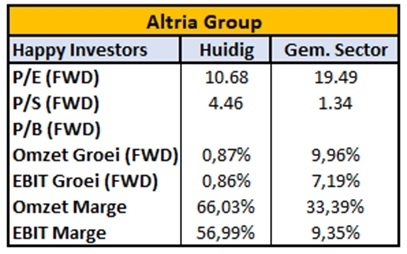 Fidus Investment (FDUS)
Fidus Investment Corporation is an investment company that invests mainly in relatively smaller companies. Its portfolio currently consists of 70 positions. They claim that the fair value of these positions is 719 million. However, its market capitalization is 478 million. In terms of growth, however, we should not expect too much from this small mutual fund. 
FDUS is among the more interesting high dividend stocks to buy now. It has a consistent dividend policy. Currently, the annual dividend is 7.35%. There is also attractive dividend growth. In addition, the stock has favorable relative valuation, which means it could potentially outperform the market (in the short term).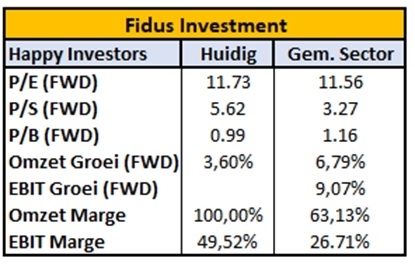 BlackRock Science & Technology Trust (BST)
BlackRock Science & Technology Trust (BST) is a Closed-End Fund (CEF). This is a publicly-traded mutual fund that issues shares on a one-time basis to raise capital. It is somewhat similar to an ETF, although there are some differences. On our website, you will find an extensive analysis of this CEF. 
Short summary: The advantage to BST is that it is a managed fund with a large spread in technology stocks. There are at least 100 (to sometimes 300) positions in the fund. This gives more spread in technology. In addition, this CEF pays a high annual dividend. Currently, it is 6.8%. A disadvantage to BST is that the annual management fee (expense ratio) is relatively high at 1.05%. It is possible to buy cheaper technology ETFs, although they do not pay such high dividends.
This ETF can be purchased at eToro and Mexem, among others.
Ares Capital Corporation (ARCC)
Ares Capital Corporation (ARCC) is one of the larger finance companies in the United States. It has a portfolio of 387+ positions with a fair value, it says, of approximately 20 billion. ARCC has a market capitalization of 9.7 billion with a relatively stable share price. However, at times of financial crisis, such as during the 2008 financial crisis and the covid-19 crisis, this stock can fall sharply (by 80% and 55%, respectively). 
ARCC has paid a reliably high dividend of around 7.8% for many years in a row. ARCC is currently among one of the interesting high dividend stocks to buy now. It has a good relative valuation, high profitability and has recently been performing well on an EPS revision basis.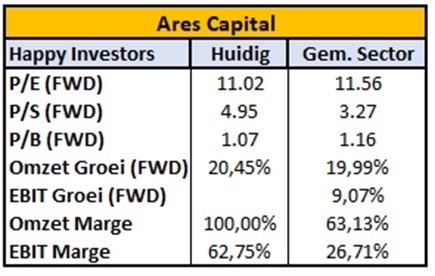 These are 5 interesting high dividend stocks to buy now. Want to know what we consider the best stocks for potential x3 or more returns? Check out the stock research here.