Do you want to invest in Reinvest24? First carefully read our Reinvest24 review and experiences. Indeed, as a real estate fund, Reinvest24 is an oddity. For example, the party claims to offer a high average return of up to 15%. This is very high in comparison. Is that even reliable? Is there a catch? In this Reinvest24 review, we critically analyze the party.
On to the review!
Reinvest24 Review: how does it work and is it reliable?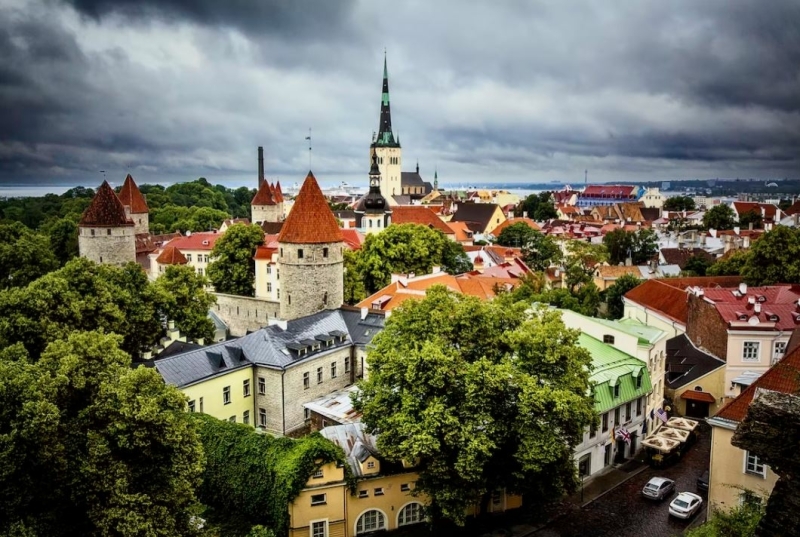 Tallinn City in Estonia
As Happy Investors we have extensive experience investing in real estate and real estate funds. However, a review on Reinvest24 belongs to a different category. Although you might think of this party as a real estate fund, it is in fact a high-risk crowdfund platform.
They claim to offer average returns of up to 13 - 15%. This is almost higher than what very advanced investors realize with stocks or their own real estate.
How can this return be so high? How does Reinvest24 work and is it even reliable?
Reinvest24 offers four different real estate investments, namely:
Real estate development projects
Real estate loans
Non-performing loan (NPL) projects
Leased real estate properties
According to this party, real estate development projects can provide the highest returns. Overwhelmingly, such investment contains high risk. Further on in our review, we will explain all these options in more detail.
The investment option of "leased real estate" is what we consider normal. This is how real estate funds work. They buy up properties and then find reliable tenants on long-term leases.
The high returns potentially achievable at Reinvest24 are founded on higher-risk investments. According to its own statistics, the average return is currently 15%. This is based on a portfolio with 90% real estate loans (#2 from above), 9% leased real estate properties, and 1% real estate development projects.
A relevant addition is that investments are made in less economically stable countries, such as Estonia, Moldova, Latvia, and Spain. This implies more geographical risk.
The composition of its investment portfolio means that Reinvest24 contains relatively more risk. The platform may be reliable, but in case of setbacks, the chance of losing money is also higher.
Our opinion is to rather choose more reliable real estate funds and invest in stocks or ETF investing, for example. They offer more reliable and consistent dividends. Then settle for something less. Anyway, the choice is of course up to you.

Experiences with Reinvest24

A high-risk profile doesn't have to be a bad thing. Our tip is just to be careful. Yes, you can consider investing in Reinvest24 for potentially high returns. Just make sure you do so in moderation. The higher the risk, the smaller the portion of your invested capital it should contain.
In doing so, we inform you that we are not basing our review on first-hand experiences with Reinvest24. It is not that we have tested Reinvest24's reliability. A reliable test should take at least several years.
Indeed, with risky investments, it is often the case that "it goes well, until it doesn't". In practice, this means that average returns can be lower. Suppose that in the first two years you achieve 15% average return. In the third year, something goes wrong, causing the return to be -10%. The average return is then only 6.6%. Not bad in itself, but not as good as consistent real estate funds or investing in REITs, for example.
Judging from clients' Reinvest24 experiences, it seems to be a positive story.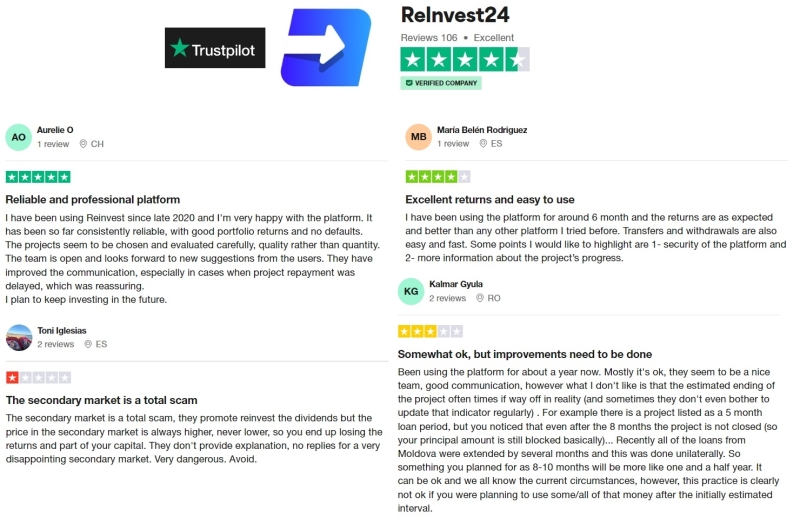 Customers are mostly positive about this real estate crowdfund platform. To what extent all reviews are genuine we dare not indicate. The only conclusion we can draw is that they have relatively few 1-star experiences. In itself, this is a positive sign regarding reliability. Another finding is that most investors come from Eastern Europe. Although this does not say much about the platform and its results.
Do you have any personal experiences with Reinvest? Positive or negative? Share your story in a comment at the bottom of this article. Let's inform our fellow man correctly.

Returns and costs at Reinvest24
We started our Reinvest24 critically. To be honest, we are skeptical, especially because the profiled return is so high. With a more optimistic outlook, though, this would be the reason to want to invest at Reinvest24.
As indicated, this platform operates primarily as a crowdfund platform. 90% of its portfolio consists of "Real-estate backed loans," or real estate loans. This is somewhat similar to P2P platforms. On a P2P platform, we can invest money in private and corporate loans.
Also on P2P platforms, there is a relatively high return. But even there it is the case that things go well as long as they go well. An example is Mintos. Offers high returns. However, quite a lot of Russian loans were frozen because of European sanctions in response to the war with Ukraine.
In such a case, the risk of losing money is high. As a result, long-term average returns are lower.
According to current statistics from Reinvest24, the return to date is high. Below is a summary.
Dividend/Return: 15% on average according to its statistics
Minimum deposit: 100 euros
Entry costs: none
Exit fee: 1% at closing of the investment
Other costs: 2 euros per withdrawal
How does investing with real estate crowdfund platform Reinvest24 work?

source: www.reinvest24.com
Investing with Reinvest24 works simply. First, you go through the registration process. You can register for free. After validation of your personal data, you can transfer money. This can be done via bank transfer or credit card. From this moment you can start investing within the portfolio. From that moment, the investment should generate a certain return. After a few months, this effect is visible. At some point you will receive dividends. At the end of a real estate loan or project, the invested amount including outstanding interest is repaid.
An important difference between Reinvest24 and real estate funds, is the entry and exit process. In comparison, an investment with Reinvest24 is more liquid.
In principle, you make an investment within the primary market. This concerns new real estate loans or properties that are put on the platform. You can participate in these starting from 100 euros. With such an investment you will find the necessary information about the property. Also indicated is the return, term, minimum investment and costs.
Have you made an investment? From then on you should receive returns. At the end of the term, you will get back the invested amount including the outstanding interest.
You may want to get out earlier. This is an advantage of Reinvest24 because they offer a secondary market.
The secondary market allows you to sell your investment to third parties in the interim. It is a marketplace. You can resell your investments to other investors and get out of the project. Investors can set their own prices. There is no minimum amount for buy or sell orders.
The advantage of this feature is that it increases liquidity.
Reinvest24 review on pros and cons
We have now done a comprehensive analysis. Several angles have been considered. All in all, we can summarize our findings with the following advantages and disadvantages.
Advantages Reinvest24
Potentially high returns
Investing with little money, the minimum deposit is from 100 euros
Easy and fast entry
A fast exit is possible via the secondary market
Relatively low costs with a 1% fee
Disadvantages Reinvest24
No clear financial supervision
Relatively high risk profile
Real estate investments are in countries with less stable economies
To be fair, it seems that Reinvest24 offers interesting advantages. In particular, the potentially high returns are enticing. In addition, liquidity and accessibility, such as getting in with a small amount, are definitely strong advantages.
The main disadvantage is the high-risk profile. Especially since these are investments in less developed countries. This does not have to turn out wrong, but the chance of losing money is higher.
Finally, it is good to compare Reinvest24 to P2P platforms. Although these are real estate investments, the characteristics are particularly similar to P2P investing. Perhaps you will find more interesting options in this corner.
Conclusion Reinvest24 review and experiences
We end our Reinvest24 review and experiences with a concise conclusion. A lot has already been discussed. In a nutshell, we can say that this is a matter of risk and return.
Review your investment strategy. Reinvest24 is an option with a high risk/return ratio. Does this fit within your strategy? Do you need this investment to meet your financial goals? Trade only in line with your strategy. If you don't need to take this risk, why do it? There are plenty of lower-risk investments available.
If you do want to qualify for potentially high returns, we offer one final tip. Pay close attention to allocation. High-risk investments should be part of a balanced investment portfolio. In this case, for example, you would not want to invest more than 5% or 10% of your total assets in this option (this is not advice).
Do you have any experience with Reinvest24? Share your review in a comment at the bottom of this article.