Investing in aviation and airlines? In this article you will find a brief analysis of the potentially best aviation stocks in the short term. From major airlines to suppliers within the aviation industry.
Will these potentially best aviation stocks take to the skies in 2022? Time will tell. What do you think? Let us know in the comments below. 
On to the stock analysis!
How do we select the best airlines stocks
We do the selection of the best aviation stocks based on extensive analysis. First, we look at the company. How strong is the organization: does it have a unique sustainable competitive advantage? Then we analyze the (relative) financial valuation based on mathematical models. In this article you will find an analysis of the potentially best aviation stocks in the short term. In doing so, we have not looked at the company, but purely at the relative financial valuation. 
However, there is another important step beforehand. 
First, you want to look from a macroeconomic level at which sectors offer interesting long-term growth. Or, depending on your investment style, favorable short-term momentum. By investing in the best companies of the best sectors, you can achieve significantly higher returns. 
As far as we are concerned, the aviation sector is not currently among the most interesting sectors for investors. It is therefore important to understand that we do not consider aviation stocks to be among the best stocks at the moment. We do not invest in them ourselves. Of course, this does not mean that there are no returns to be realized. 

Best Airlines Stock 1. American Airlines Group (AAL)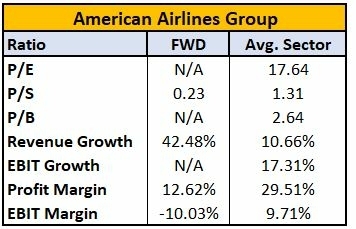 source: Happy Investors analysis q2 2022
American Airlines is a prominent American airline that operates to nearly 50 countries and is a founding member of the Oneworld global alliance. AMR Corp., its parent company, also has interests in food-catering services, hotels and inns, airport ground transportation and baggage-handling services, airport maintenance services, and other related industries.
American Eagle, which operates Envoy Aviation Group Inc., PSA Airlines Inc., and Piedmont Airlines Inc., as well as third-party carriers, also provides regional service.
American Airlines works as a single business sector, with a fleet of hundreds of aircraft transporting both passengers and freight around the world. Despite the fact that American Airlines has just one reportable segment, revenue numbers are broken down by passenger, cargo, and other revenue.
On December 14, 2021, American Airlines revealed the nine-member senior leadership team that would report to Robert Isom. Isom serves as the president of the company at the present time. Priya Aiyar was appointed as senior vice president of corporate affairs and chief legal officer, and David Seymour was appointed as senior vice president and chief operating officer (COO).
Under the AAdvantage name, the firm also offers a frequent flyer programme to increase passenger loyalty by rewarding customers for their continuous patronage. It also offers marketing services for the selling of AAdvantage mileage credits, membership fees and Admirals Club operations, and other other services.
AAL may be among the best aviation stocks of 2022 because of its relative financial valuation. On both short-term valuation and growth, the stock scores strongly.
Best Airlines Stock 2. Southwest Airlines (LUV)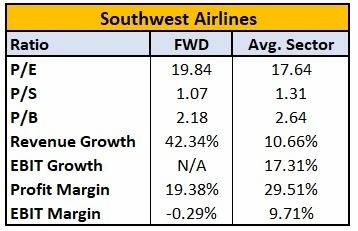 source: Happy Investors analysis q2 2022 
Southwest Airlines Co. (LUV) has become a standard mode of transportation for Americans. While many other airlines advertise more accommodating features and lavish upgrades, Southwest Airlines has kept to a business model of shorter, cheaper flights that cater to customers seeking quick and simple journey plans.
The exclusive use of Boeing 737 aircraft, which allows for lower maintenance costs and faster flight turnaround times, and a concentration on ticketless travel keep expenses low.
The first nine years of the airline's existence were spent as a commuter airline, during which time it served solely Dallas, Houston, and San Antonio as destinations inside the state of Texas.
When Southwest Airlines originally debuted, it ran a love-themed marketing campaign, which inspired the LUV ticker sign. Since then, this airline company has grown into a low-cost player with no frills. Management continues to stick to its unique strategy, which has now resulted in sustainable competitive advantage.
Southwest Airlines has informed its investors that there is a fierce battle going on in its business for talented staff. As a result, in order to maintain its competent workforce, the company has forced to raise the minimum wage for some of its employees. However, it warns that an unexpected loss of vital skilled individuals could have a negative impact on company operations.
Based on relative financial valuation, LUV scores very strongly, potentially making it the best airline share in 2022.
Best Airlines Stock 3. Deutsche Lufthansa (LHA)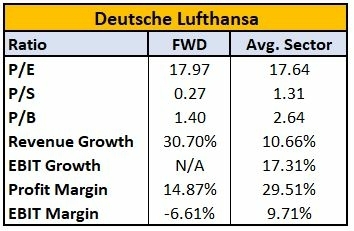 source: Happy Investors analysis q2 2022 
Deutsche Lufthansa AG is a German company that provides global passenger and cargo air transportation services. Network Airlines, Eurowings, Logistics, MRO, and Catering are the segments of the company.
Lufthansa German Airlines, SWISS, and Austrian Airlines are part of the Network Airlines category. Eurowings, Germanwings, and Brussels Airlines are all part of the Eurowings sector, as is SunExpress' equity participation.
The Logistics section includes the Lufthansa Cargo group's scheduled airfreight activities. Maintenance, repair, and overhaul services for civil and commercial aircraft are included in the MRO category.
The Catering business area is responsible for the catering needs of airlines. It provides flight and connection services throughout North America, Scandinavia, and Asia.
Shareholders and potential investors in Deutsche Lufthansa must comprehend how much cash the company generates from its core operational activities, as well as how much is invested back into the company. Currently, the Price / Cash Flow is 2.64, which is definitely favorable. On the other hand, this aviation stock definitely has risks due to its current net results.
If LHA can sustain its capital spending levels while increasing its growth rate each year, the overall future prognosis appears promising.
Best Aerospace Stock 4. Raytheon Technologies (RTX)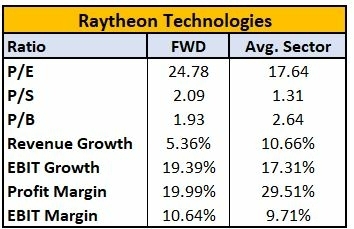 source: Happy Investors analysis q2 2022 
Raytheon Technologies Corp. is an aerospace and defence company that provides commercial, military, and government customers with aerospace and defence systems and services. It conducts its business using the following divisions: Collins Aerospace Systems, Pratt and Whitney, Raytheon Intelligence and Space, and Raytheon Missiles and Defense.
Collins Aerospace Systems develops and sells aerostructures, avionics, interiors, mechanical systems, mission systems, and power controls.
The Pratt and Whitney division is responsible for the development and production of main and auxiliary propulsion systems, as well as aircraft engines, for use in business, military, and commercial aircraft.
The Intelligence and Space business segment of Raytheon is responsible for the development of various sensors, as well as training programmes, cyber and software solutions, and other related products.
Raytheon Missiles and Defense provides end-to-end solutions for detecting, tracking, and engaging threats.
Additionally, Raytheon is an industry leader in the production of shipboard radar and sonar systems, autopilots, and Global Positioning System (GPS) devices. These products can be found in the marine electronics sector.
RTX's research and development team has more than 100 years of experience in fields such as artificial intelligence, advanced propulsion, electrification, and thermal management.
RTX is not the cheapest aviation stock at the moment. However, the business does generate a lot of cash flow ($6.9 billion). However, key profitability factors, such as ROE, are lower than average. 

Best Aerospace Stock 5. AerSale Corporation (ASLE)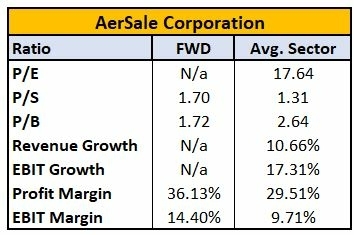 source: Happy Investors analysis q2 2022
AerSale Corporation is a global supplier of aftermarket commercial aircraft, engines, and parts to passenger and cargo airlines, leasing companies, original equipment manufacturers, government and defence contractors, and maintenance, repair, and overhaul (MRO) service providers.
It is divided into two business segments: Asset Management Solutions and Technical Operations (TechOps). Asset Management Solutions sells and leases aircraft, engines, and airframes, as well as disassembles these assets for component parts.
The TechOps segment offers internal and third-party aviation services such as internally developed engineered solutions, heavy aircraft maintenance and modification. AndThis segment also offers aircraft modifications, cargo and tanker conversions, and aircraft storage, as well as maintenance, repair, and overhaul (MRO) services for landing gear, thrust reversers, hydraulic systems, and other aircraft components.
ASLE has a small market capitalization of about $800 million. It has also not been publicly traded for very long. Both factors lead to higher risk. On the other hand, this aviation stock offers an attractive combination of valuation, growth and profitability. And given that it belongs to the small cap stocks, it may well offer higher than average returns in the short term.
Best Airlines Stock 6. United Airlines Holdings (UAL)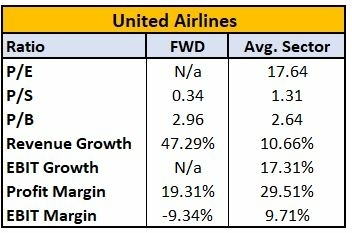 source: Happy Investors analysis q2 2022
United Airlines Holdings, Inc. is a holding company, and United Airlines, Inc. is the major fully owned subsidiary of United Airlines Holdings, Inc. (United). It transports passengers and freight throughout North America as well as to Asia, Europe, Africa, the Pacific, the Middle East, and Latin America.
Through its wholly owned subsidiary, United, and its regional carriers, the company operates on six continents, with hubs at Newark Liberty International Airport (EWR), Chicago O'Hare International Airport (ORD), Denver International Airport (DEN), George Bush Intercontinental Airport (IAH), Los Angeles International Airport (LAX), A.B. Won Pat International Airport (GUM), San Francisco International Airport (SFO), and Washington Dulles International Airport (IAD).
Because of its hub and spoke structure, it is able to provide passengers with transportation to multiple destinations at more frequent intervals. United has contractual arrangements with different regional carriers to provide regional aircraft service branded as United Express.
It has a loyalty scheme called MileagePlus through which regular flyers can gain travel advantages. As a founding member of Star Alliance, the airline allows its customers to earn miles and enjoy additional perks when flying partner carriers around the world.
Given that the stock is cyclical, which means that its price is affected by macroeconomic or systematic changes in the general economy, investing in the company is still considered to be a high-risk endeavour with the potential for significant returns.
However, the relative valuation is less favorable than the above potentially best aviation stocks.

Best Airlines Stock 7. Alaska Air Group (ALK)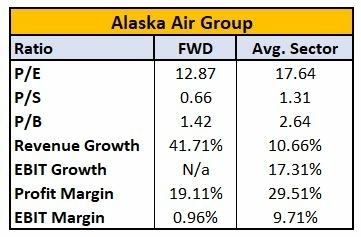 source: Happy Investors analysis q2 2022
Alaska Air Group, Inc. is a holding company that provides air transportation services through its subsidiaries Alaska Airlines, Inc. and Horizon Air Industries, Inc. The business is divided into three divisions: Mainline, Regional, and Horizon. The Mainline segment comprises scheduled air transportation for passengers and cargo on Alaska's Boeing or Airbus jet aircraft throughout the United States, as well as parts of Canada, Mexico, Costa Rica, and Belize.
The Regional segment covers Horizon's and other third-party carriers' scheduled air transportation for passengers throughout a shorter distance network inside the United States and Canada under capacity purchase agreements (CPA).
For the upcoming season, the aviation industry's future is uncertain. Some of these risks include competition, labour prices, relations, and availability, general economic conditions, especially those related to pandemic recovery, increases in operating costs, including gasoline, and an inability to reach cost reduction targets.