Dear Happy Investor, The best coal stocks conflict with my ethics. As a Happy Investor, I stand for investing toward financial freedom and sustainable living. From personal interest, I also strive for sustainability. I like to be in nature, and besides, clean energy is necessary. But as an investor, the topic of sustainability is not interesting at the moment because of its high valuation. While unsustainable energy sources like oil and coal are exploding.
Long-term investing in coal is not sustainable (in any aspect). And perhaps unethical? How do you feel about short-term coal investing? Hitching a ride on the momentum, only to sell it after X months? Or not getting your hand dirty with it at all?
It is not for me to judge others. However, I am genuinely curious about your views.
The article below is about the 5 best coal stocks at the moment. This is written from an investor's point of view. After all, an investor is rational and leaves emotions out of the equation.
Coal is not a sustainable long-term investment
Investing in coal is not a long-term investment. I say that as an investor. However, coal is needed right now. And not just in developing countries. But it does go against the "green revolution". That's why I don't think it's a long-term investment (5+ years).
So why invest in Coal anyway? Reason: it seems the best coal stocks can give very high returns. Short term.
It is not for me to make ethical judgments about your investment style. Personally, I think we should look primarily at sustainable stocks and solutions. However, as investors, we need to turn off emotions. And from that perspective, one can reason to invest a small portion in Coal. One angle is to hitch a ride for the short term and sell after, say, 6 or 12 months.
By the way, know that our partners from Capitalist Exploits (Insider) were there early on. Not only in coal but also regarding investing in other commodities they were absolutely right. So they gave in 2019 already to invest in international coal stocks (especially Asia). In retrospect a little too early, but they were right about the thesis. They look less at ethical aspects, but simply at the challenge: how can we, as investors, achieve high returns with low risk.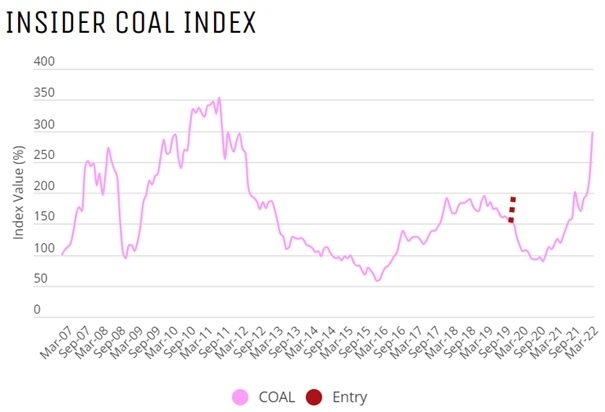 Our partner works on the basis of asymmetric investing. They invest in high-quality stocks with (deep) Value. Early, before the crowd. This leads to minimal risk and yet high returns. They have proven this abundantly by now.

5 best coal stocks at this moment [2022]
Based on our sources, these are the 5 best coal stocks at this moment:
Peabody Energy Corp. (BTU)
Arch Resources, Inc. (ARCH)
CONSOL Energy Inc. (CEIX)
Warrior Met Coal (HCC)
Alliance Resources Partners (ARLP)
In particular, the TOP 3 coal stocks appear to be in contention for further price appreciation in the near term. Consider a potential 10 - 50% return. At least, this is based on the factor analysis and current developments. Of course, analysis is never a guarantee, but it is an indication that increases our chances of winning.
We have only looked at factor analysis, about which more later. We have not made a fundamental analysis of the company and its management. Something that is a must if you wish to invest for the long term.
Besides this list, there is a large selection of listed coal companies from Asia (especially China).
How to invest in Coal stocks?
Given the short-term nature and unforeseen issues, one option is to spread a proportional amount over the 3 best coal stocks. Optionally, you can add Warrior Met Coal to this. Alliance Resources Partners seems a little less interesting at this point.
Another option: research the best coal stock from this list. Which one offers the lowest risk (think diversification, cash flow, debt, et cetera)? Or which one is in position to rise the most (coal reserves, earnings growth, et cetera).
In terms of duration, it seems logical to me to think of a short term of 6 to 12 months. Depending on the development, this could be shorter or longer. Although I hope that we as humanity will not start to see coal as a long-term investment. After all, where capital flows in there is growth.

Peabody Energy Corporation (BTU)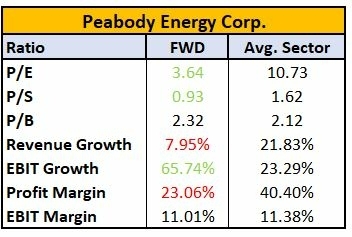 Peabody Energy Corporation is currently among the best coal stocks in the United States. The coal company focuses on sustainable mining and clean coal technologies. How sustainable this is, in reality, is always open to question. The company supplies metallurgical and thermal coal to customers primarily in the United States and Australia. Looking purely at factor analysis, BTU shares score very high.
Arch Resources, Inc (ARCH)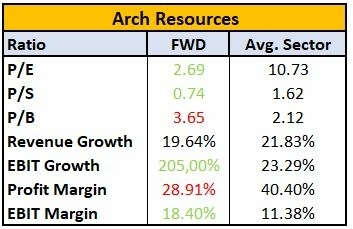 Arch Resources produces coal at relatively low cost at its new Leer South coal mine. The company has sufficient liquidity to meet its debts. It has long-term contracts in place, making revenue and prices more predictable.
Coal mining operations contain risks. Arch Resources has failed to operate part of its other coal mine, Mountain Laurel. It is also the case that Arch has terminated its joint venture with Peabody. This has implications.
Based on factor analysis, ARCH currently scores as the best coal stock. I expect ARCH to perform the best of the coal companies mentioned. Particularly because it has long-term contracts in place. This provides more certainty. And they are expected to experience more earnings growth over the next 12 months.

CONSOL Energy Inc (CEIX)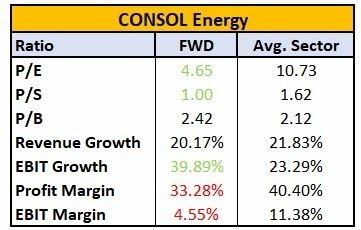 CONSOL Energy has been around since 1864. It is an American company that provides coal energy. They export so-called high-BTU bituminous thermal coal (see Peabody's ticker BTU). They operate a number of larger coal mines in the U.S. Further, they talk about sustainability on its website. Like any other company. 47 pages full of fancy words and pictures. Didn't read through it further, because how sustainable is coal production really....
Warrior Met Coal (HCC)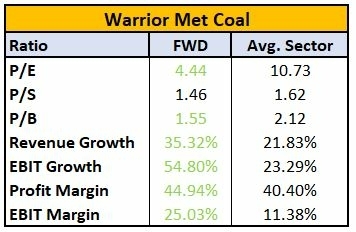 Warrior Met Coal describes its business as follows:
Warrior is a U.S.-based, environmentally and socially minded supplier to the global steel industry. It is dedicated entirely to mining non-thermal metallurgical (met) coal used as a critical component of steel production by metal manufacturers in Europe, South America and Asia. Warrior is a large-scale, low-cost producer and exporter of premium met coal, also known as hard coking coal (HCC), operating highly efficient longwall operations in its underground mines based in Alabama. The HCC that Warrior produces from the Blue Creek, AL, coal seam contains very low sulfur and has strong coking properties and is of a similar quality to coal referred to as the premium HCC produced in Australia. The premium nature of Warrior's HCC makes it ideally suited as a base feed coal for steel makers and results in price realizations near the Platts Index price.
Currently, Warrior Met Coal (HCC) is among the best coal stocks. It scores high on factor analysis. And it is one of the few coal companies that is also expected to achieve high revenue growth. Moreover, this company is more profitable than average.
Alliance Resources Partners (ARLP)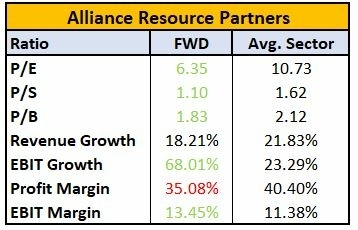 Finally, we have Alliance Resources Partners (ARLP). Of the best coal stocks, it is the least interesting. However, it is a relatively diversified organization with 7 coal mines throughout the U.S. In addition, the company has interests (royalties) in oil and gas.