Dear Happy Investor, want to earn some extra income with a fun side hustle? Why not offer your knowledge and experience as a service through Fiverr? In this article you will find 7 Fiverr ideas for making money. Quick, easy, online and determine your own working hours. And who knows: maybe a Fiverr idea will grow into a fulltime business!
On to financial freedom!
7x Ideas for Fiverr side hustle to earn money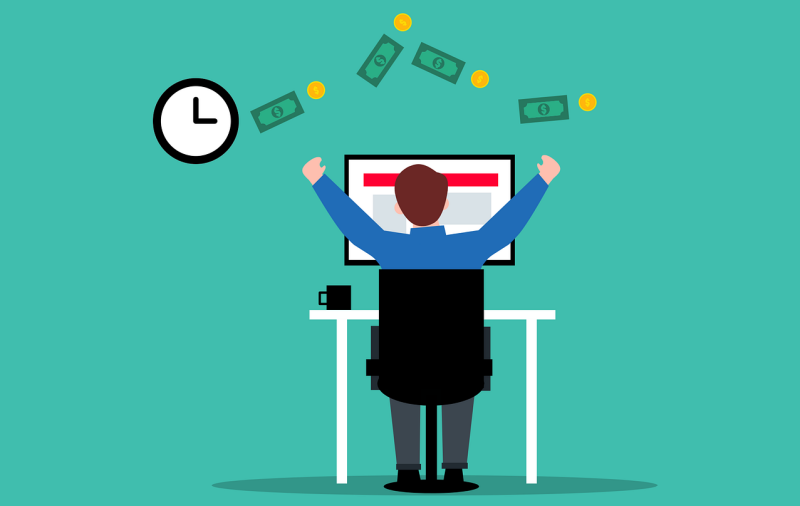 This article focuses on Fiverr ideas for earning money. Fiverr is an online platform that creates supply and demand between freelancers and clients. You don't need a certificate or degree. If you are a specialist, you can offer your knowledge and experience on Fiverr. Many Fiverr ideas start as a side hustle for making more money. Usually for a side hustle. But sometimes it grows into a serious business. 
The advantage of Fiverr is that they are a global platform. Every month they reach millions of customers looking for freelancers to work on tasks. This allows you to get a quick start and start your own side hustle. Creating an account is free. 
Fiverr is also useful if you are an employee, self-employed or entrepreneur. You can buy all sorts of things through this platform: from presentations and photoshop to setting up Google Ads and virtual assistants. 
Want to know more about Fiverr? Click here for more information.
Idea 1. Virtual Assistant
A Fiverr idea to earn more money as side hustle. This is one of the finest methods to work with people from all around the globe. The good news is that the demand for and popularity of such jobs is growing year after year. This area includes a wide range of skills and jobs such as research, data entry, email creation, lesson planning, virtual computer repair and cleaning, and so on.
A virtual assistant job is also in great demand on Fiverr since it is typically quite basic and does not need any educational experience or background. As a virtual assistant, you would be required to do brief tasks on websites where you may make money by completing little tasks online. This work is comparable to micro jobs and freelance projects.
The cost varies depending on the work and the work of time you offer. You may make $5 to $15 per hour with this Fiverr idea. However, it is dependent on your experience, the amount of time you offer, the sort of work, and a variety of other considerations.
Idea 2. Ad Campaigns
Are you advanced in creating marketing campaigns for businesses? A lucrative Fiverr idea for making money as a side hustle is to create ad campaigns. It is one of the most profitable gigs Fiverr. Google Adwords and Facebook Ads campaigns are two advertising platforms that can help a business generate more leads.
When it comes to advertising, there might be different sorts of requirements. It may be as simple as wearing a watch and taking a photograph of yourself wearing it. Alternatively, there may be a demand to prepare a suitable campaign or model for which you must come up with innovative ideas.
Advertising online is one of the most significant tools of a company since it attracts marketers from various professions. Instagram and Facebook are the most popular in recent years since they are the greatest venues to undertake promotion or advertising.
Want to know more about Fiverr? Click here for more information.
Idea 3. Digital Marketing
This term has been popular for a few years, and so has its demand. As a result, there are a lot of individuals who want to acquire digital marketing services for their business and are willing to spend a lot of money on it. As a freelancer, you can earn a serious income with this Fiverr idea.
In today's world, digital marketing refers to advertising that is distributed via digital channels such as email, web applications, social media, mobile applications, and so on. You've probably seen this a lot when utilizing social media networks.
If you additionally have digital marketing skills such as email marketing, SEO, Ads campaign, content marketing, and social media marketing, you will have a significant advantage.

Idea 4. Website Testing
Many people establish a website or blog but are unsure whether it is functioning properly. As a result, they are looking for people who can test their website for things like navigation, on-page SEO, and so on. Optimizing websites is a profitable Fiverr idea as a side hustle. Older entrepreneurs in particular can use help with this.
Furthermore, there are theoretically unlimited people who want their apps to be up to date but are unable to stay up with the trends. Therefore, they want the services of people who can accomplish it for them. As a result, they pay people to do this for their website. You may utilize this on Fiverr if you have knowledge of websites and how to create them.
It is a pretty straightforward task that does not need a lot of technical knowledge. You may make a good living from it, and it also improves your skills as you learn new topics with each test.
Idea 5. WordPress Troubleshooter
WordPress is a simple piece of software, but there are times when it gets difficult. WordPress is used by many people nowadays and is highly user-friendly. However, there are instances when people get stuck and do not know how to solve the solution.
If you are a techie and are familiar with WordPress, then take advantage of this Fiverr Gig, as many people are looking for WordPress Troubleshooters. This is a fantastic opportunity to earn money while also assisting individuals in need. It may be a major issue for them, yet it may just take you a few minutes to resolve.
This is in huge demand since troubleshooting is a difficult task, and most people do not know how to resolve the issue. So take advantage of this opportunity on Fiverr and make $50-$70 depending on the complexity of the issue and your experience.
Want to know more about Fiverr? Click here for more information.
Idea 6. Photoshop Editing
This has quickly become one of Fiverr's most popular gigs. Photoshop may be used to remove background from images, give images a digital makeover, edit images, and do whatever else you desire. It has a broad reach, but you must first complete all of the prerequisites before you begin working on the pictures.
As a beginner, if you want to practice, there is a free version of Photoshop that you can download online, but if you want to make this your job, it is advised that you go for its premium version since there are many features that may aid you in editing the pictures. There is unprecedented demand for it and it would be a nice side hustle idea for on Fiverr.
It is preferable to create a portfolio of your work so that customers can view it and depend on it. If they are looking for the same kind of work you have done, they may pay you a handsome amount of money. People often pay $10 to $15 for each editing session.

Idea 7. Making Video Tutorials
You've probably seen a plethora of tutorials on YouTube, Facebook, or WhatsApp. There are many people that create tutorials in any niche in which they are an expert, such as cooking, makeup, assembling any product, and so on. One Fiverr idea for making money is to create such video tutorials.
You may use these videos to guide people on acting ideas, stress relief, and other topics. This might seem a terrific method to make money on Fiverr, but you must have a large network to do it.
Many businesses hire people to provide video tutorials for their goods' use or assembly. So, if you like creating such videos, this is a perfect job for you that may pay you $20 to $25 for every video tutorial. With this Fiverr idea, you can earn about $20 to $25 for each video tutorial. The more reviews you have, the higher the price. 
As mentioned, it's a fun side hustle. One that you can start as a student or as an experienced employee. The more knowledge you have, the more extra income you can realize. And all online, when you want it.
Questions or comments about Fiverr money-making ideas? Ask them below in the comments.