Dear Happy Investor, in this ARK Fintech Innovation ETF analysis I explain why I will invest €15,000 in this. For me, this is about 10% of my investment assets. That is hefty. In this ARKF analysis, I share my arguments about the advantages of this active fund. However, the ARKF ETF has great risks. So read carefully the risk analysis below. 
Do you believe in the digital revolution of the monetary system? Then read on. 
Table of Contents:
[[show index]]
Let Money Work for You! Starting on the best investment platforms is half the battle
Are you still working hard for your money? Why don't you consider letting the money work for you! Create passive income and attain financial freedom. Starting on the best investment platforms is half the battle. Do you want to know what the very best investment platforms are? Then click on the blue link to compare the best investment platforms now. Here you can read my independent comparison of the best online brokers for stocks, crypto, and P2P. Save money and choose the best investment platform!
Why invest in ARK Fintech Innovation ETF? Analysis for long-term investors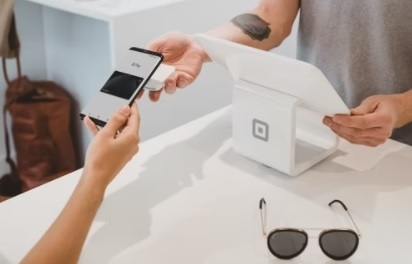 The premise of Cathie Wood and her management team managing the ARK ETFs is that innovation beats inflation in the long run. Investing in ARK ETFs has proven itself right in recent years. However, this was in a favorable market. How will it be in the future?
Of all the ARK ETFs, I think the ARK Fintech Innovation ETF with the ticker ARKF is the best choice right now. 
First, because it has the most favorable valuation relatively speaking. ARKF is not cheap and certainly not undervalued, but the fund has an acceptable valuation given its huge growth potential (see stock analysis below). 
ARK Fintech Innovation aims for thematic multi-cap exposure to fintech innovations including mobile payments, digital wallets, peer-to-peer lending, blockchain technology, and risk transformation.  
There are always reasons to be anxious. Doomsaying is easy. Investing in ARK Fintech Innovation ETF requires you to think primarily in terms of opportunity. My thinking process is this: 
1.            Money movement will remain relevant for the next twenty years
2.            Online money (book-entry) will continue to gain ground 
3.            Traditional players (such as banks) with old business models (capital intensive) will be defeated on strategy by modern fintech disruptors with more current business models (cheaper and faster)
4.            Buying individual fintech growth stocks is risky. In collection (ETF) reduces this to, in my opinion, acceptable risk
The powerful thing about ARKF is that it tracks stocks that are at the forefront of this transition. This is different than with the ARK Genomic Revolution ETF. That includes companies that are still in the research phase. In ARKF, however, there are unique fintech disruptors that grow enormously fast and make money. Traditional players simply cannot act fast enough.
Relevant key figures from this ARKF analysis (download the fact sheet for up-to-date figures):
- Total return since inception (2019): 41.34%
- Dividend rate: 0%
- Number of positions: 35 - 55
- Total expense ratio: 0.75%
- P/E ratio: N/A
- risk category: see risk analysis below!
Unique Fintech stocks with potential earnings models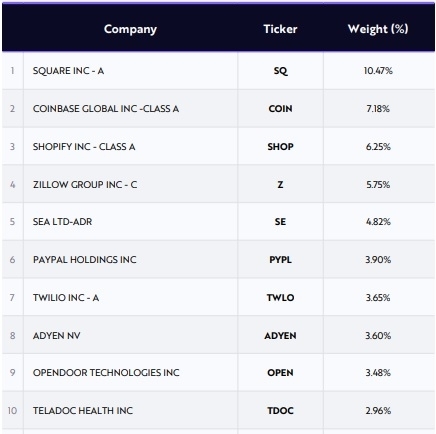 Source: ARKF factsheet, October 2021
An overview on the holdings shows how many unique Fintech stocks this fund manages. A characteristic of ARK is that they give the top 10 holdings a relatively high weighting. In this case about 50% of the total. Some gems are Square, Shopify and the Dutch company Adyen. You can currently buy this type of stock at its all-time high (highest price quote). That is not always a favorable entry point. On the other hand, there are also shares in it that have recently been punished. Sometimes undeservedly so. Examples are Zillow, Opendoor and Teladoc. 
ARKF also manages unique fintech stocks outside the top 10. For example, I am enamored with Stoneco (1.98%), Pinduoduo (1.79%) and Bill.com (1.68%). Stoneco is currently interesting to get into, but companies like Pinduodou and Bill.com provide more uncertainty. In this case, an ETF offers the solution. 
From my ARK Fintech Innovation ETF analysis, I draw the personal conclusion that this fund gives us access to unique fintech stocks. The focus provides risk, but also potentially high returns. 
With this composition, why couldn't ARKF average 12 - 15% return per year? This is high. A bold statement. Moreover, there are serious risks (see below). 
Finally, one criticism I have of ARK is that it manages many of the same stocks in its ETFs. Stocks like UiPath, Teladoc Health and Palantir are in multiple ARK ETFs. This does not help the diversification between them. On the other hand, this does show confidence in certain stocks.  
Want to buy Ark Fintech Innovation? You can buy ARKF commission-free at eToro
Risk Analysis ARK Fintech Innovation ETF

Source: seekingalpha.com, October 2021
The risk analysis of ARK Fintech Innovation ETF is quick. It is among the more risky ETFs. First of all, there is a limited spread in both (1) holdings, (2) geography and (3) sector. In addition, all the stocks belong to the growth stock category. If the next ten years are favorable for Value, then ARKF will be able to perform less well. 
The short interest is currently 6%. If this rises higher, that too poses a risk. The more people go short, the heavier this weighs on the share price. 
Price volatility is much higher than average. Annual fluctuations of around 30% can occur. This fund has not been around very long (2019), but it has already realized two large declines of -30%. That is quite a lot in two years. In my opinion, this just gives great opportunities for buy the dip, provided you hold long term. This can be effective since ARKF is actively managed. That is, if certain stocks continuously underperform, management can decide to replace them with new shares. 
Another plus in the context of ARKF analysis is the market capitalization of the current holdings. The fund consists predominantly of large caps. Large caps are less risky than medium and small caps. By the way, not always, as an undervalued medium "Value" cap can be a safer move than an overvalued large "Growth" cap.

Source: ARKF factsheet, October 2021
When the economy deteriorates, ARKF will give more price loss than similar ETFs with more risk diversification. This also presents opportunities for long-term investors. Market timing is tricky, but it might be possible to buy ARKF structurally with every 5 - 10% price drop. This is not a buy recommendation, but a tip to increase potential returns if you are a risky investor. 
It should be clear that the ARKF is not suitable for risk-averse (passive) investors.
Conclusion: investing 15,000 euros in ARKF is an acceptable risk for potentially higher returns
In this ARK Fintech Innovation ETF analysis, we discussed the pros and cons of this fund. In my opinion, it gives us a diversified opportunity in unique fintech stocks. This makes the risk acceptable for long-term investors with a high-risk profile. You would want to invest in it if you believe in the holdings and its growth potential. 
Of course, it is better to buy the top 5 best fintech stocks from ARKF. The only question is: which ones are they? 
On the other hand, you might want to avoid ARKF because you don't want to take the high risk (with high price volatility). The tracker gives risk diversification, but the average of all stocks still gives a high risk. Alternatively, you could choose lower-risk ETFs that offer a more diversified investment to fintech.
Why I'm going to invest $15,000 in Ark Fintech Innovation ETF? (above you can see my initial purchases)
In my current portfolio, I currently have about 30 growth stocks and 10 value stocks. However, I want to reduce this to a maximum of 15 growth and 15 value stocks. The capital that is freed up I invest in specific ETFs based on my research. ARKF is one of them. Over time, I will invest 10% of my assets in this fund. 10% is my maximum, which demonstrates my confidence in this fund. But please note that this is not a buy recommendation as I am not aware of your risk profile. 
For me, ARKF offers an ideal solution: a higher yet acceptable risk for the chance of potentially high returns thanks to unique fintech stocks. 
What do you think of the ARK Innovation ETF? 
Want to buy Ark Fintech Innovation? You can buy ARKF commission-free at eToro