Dear Happy Investor, In this article we will discuss an analysis of Russell 2000 ETF. There are several Russell 2000 ETFs, but this ETF analysis is about the one from publisher SPDR with ticker ZPRR. We are going to review this small stock investment fund on multiple aspects. From its strategy to its top 10 holdings. We'll also discuss pros and cons and the risk/return profile. This Russell 2000 ETF analysis covers almost everything you need to know as a long-term investor.
On to sustainable financial success!
ETF Analysis: SPDR Russell 2000 US Small Cap UCITS ETF (ZPRR)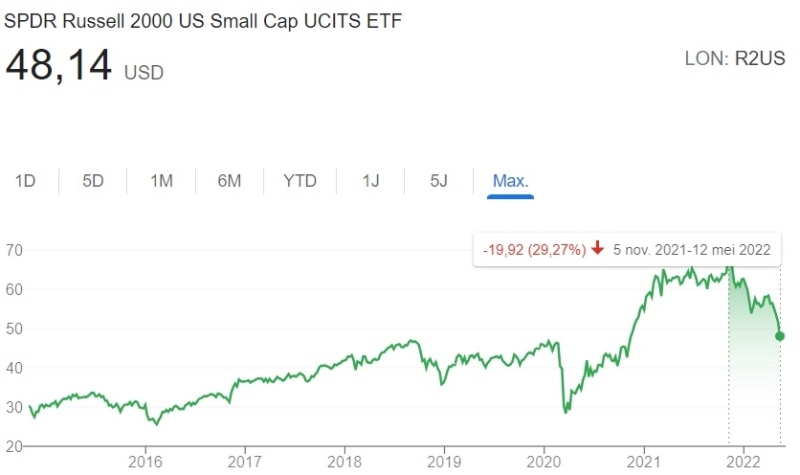 The SPDR Russell 2000 US Small Cap UCITS ETF is a investment product that seeks to replicate the performance of the Russell 2000 Index. The Russell 2000 Index is made up of the smallest publicly listed corporations in the United States. Small cap stocks have a market cap of 300 million up to 2 billion dollars. The Index represents around 8% of the overall US stock market.
After a brief price correction, the ETF currently stands at a P/E ratio of 11.7. Although a further price decline is plausible, the entry point becomes more attractive for the long term. In this Russell 2000 ETF analysis, we explain why.
Strategy of SPDR Russell 2000 US Small Cap UCITS ETF
The SPDR Russell 2000 US Small Cap UCITS ETF strategy strives to produce investment outcomes that are usually consistent with the price and yield performance of the Russell 2000 Index before fees and costs. The index is a market capitalization-weighted index of small-cap US stocks.
The fund typically invests in Russell 2000 Index common equities, although it may also invest in other equity instruments. Dividends are reinvested in the fund (capitalisation).
Pro's and Con's of SPDR Russell 2000 US Small Cap UCITS ETF
Let us examine some pro's and con's during our analysis of Russell 2000 ETF
Pros
According to our SPDR Russell 2000 US Small Cap ETF analysis, it is a good investment for those who want to invest in the US small cap market. This fund maintains low fees and offers relatively high diversification.
The SPDR Russell 2000 US Small Cap UCITS ETF offers investors access to 2,000 small cap stocks from all sectors of the economy. This diversification can protect against downside risk while offering upside growth potential. Still, our analysis shows that it is a fairly volatile fund. The fund does have lower volatility compared to other small-cap funds.
In conclusion, we can state that an analysis of Russell 2000 ETF is not necessary for novice investors. It is a cheap and diversified way to many small companies. It is definitely not without risks and not really passive either. Periodic investing or buy the dip is more appropriate.
Cons
The SPDR Russell 2000 US Small Cap UCITS ETF doesn't pay out dividends. This means that you'll get no income from this fund, which is not suitable for dividend investors who want their money to work for them. However, on the long-term the accumulation should give higher returns.
In addition, because it's a passively managed fund, there are no human managers making decisions about which companies to invest in. These factors combined mean that this ETF may not be ideal for those who want more control over their investments.
This fund only holds stocks that are based in the U.S., so if you're looking for international exposure, this isn't going to be the best choice. As alternative we have All-World Small Cap ETFs.
This fund has a relatively low trading volume, which means it may not be easy to buy or sell it when you want to. According our Russell 2000 ETF analysis it can be very volatile.
Here are some important financials about the Russell 2000 ETF analysis:
Ticker: ZPRR
Annual return since inception: 6.95%
Dividend: n.a.
Number of holdings: 1800 - 2000
Total expense ratio: 0,30%
P/E-ratio: 11.72 (according factsheet)

TOP 10 Stocks SPDR Russell 2000 ETF Analysis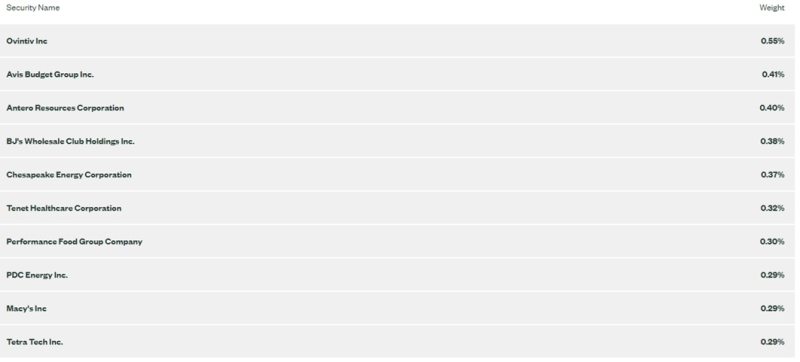 source: SPDR
The top ten largest holdings account for 3.6% of the portfolio. The fund is also highly focused in US stocks, with almost 98% exposure geographically. In terms of global spread, this is insufficient, but in terms of spread in U.S. stock markets, this is an excellent complement to large caps.
Analysis of top 10 holdings
Ovintiv Inc. 
Ovintiv Inc., headquartered in Denver, Colorado, is a Delaware-based hydrocarbon exploration and production company. Working with workers, community groups, and other businesses, Ovintiv contributes to the strength and sustainability of the communities in which it operates.
Since the early 2000s, Ovintiv has focused on North American "resource plays," a term it coined to describe unconventional resources buried deep in tight sands and shales.
US Operations, Canadian Operations, and Market Optimization are the three segments of the company. The USA Operations area covers the exploration, development, and production of oil, NGLs, natural gas, and other related operations. The exploration, development, and production of oil, NGLs, natural gas, and other associated operations in Canada are included in the Operations in Canada category.
The Market Optimization section is in charge of selling the Company's production to third-party clients. Third-party product purchases and sales are also part of the segment's activity.
Avis Budget Group, Inc
Avis Budget Group, Inc. is the American parent corporation of the global brands Avis Car Rental, Budget Car Rental, Budget Truck Rental, and Zipcar. Payless Car Rental, Apex Car Rentals, Maggiore Group, and France Cars are some of its local brands. AmicoBlue, MoriniRent, TurisCar, TurisPrime, and ACL Hire are among the company's network brands. The corporation is based in Parsippany, New Jersey, and is a Delaware corporation.
It operates in two segments: Americas and International. In North America, South America, Central America, and the Caribbean, the Americas sector licences the company's brands to third parties for car rentals and other products and services. Vehicles are leased across Europe, the Middle East, Africa, Asia, and Australasia by the International sector.
In its rental fleet, the company provides a variety of vehicles, including luxury automobiles, specialised vehicles, and light commercial vehicles. The company offers mobility solutions through three brands: Avis, Budget, and Zipcar, as well as various more brands in their respective areas.
Antero Resources Corporation
Antero Resources Corporation is a hydrocarbon exploration firm. It is based in Denver, Colorado and is organised in Delaware. Hydraulic fracturing is used to extract the company's reserves, which are entirely in the Appalachian Basin (92 percent in the Marcellus Shale and 8% in the Utica Shale).
Gathering and Processing and Water Handling are two of the company's segments. Antero Resources' wells in West Virginia and Ohio are collected and processed by a network of collecting pipelines and compressor stations in the Gathering and Processing division. The collecting and processing division also includes profits from the Company's joint venture and Stonewall interests.
Two separate systems distribute freshwater from sources such as the Ohio River, local reservoirs, and various regional rivers in the Water Handling sector. The Clearwater Facility and other fluid handling services are included in the water handling category. High-rate transfer, wastewater transportation, disposal, and treatment are among the company's other fluid handling services.
Antero Resources is an extraordinary stock. Since the covid-19 dip, this company has risen by more than x30. At the time, this was a strong recommendation from Capitalist Exploits, the membership we are an official partner of.

How diversified is SPDR Russell 2000 US Small Cap UCITS ETF?
From our SPDR Russell 2000 ETF analysis, it appears to be a highly diversified fund across virtually all sectors. And with 2,000 stocks in its portfolio, ZPRR is highly diversified in the U.S. market. The major drawback regarding risk diversification is that this fund does not include "foreign" small caps. Those who want that can buy a complementary fund for that.
This fund is a good option for novice investors looking for diversification. Nevertheless, the ETF should be seen as higher risk because its volatility is higher. For the advanced investor, this provides opportunities. However, as a beginner, you may suffer emotionally from unexpected price drops of 30 - 50%. It is just a possibility.
Learn about ETF investing.
Risks and Returns of SPDR Russell 2000 US Small Cap UCITS ETF (ZPRR)
Small caps tend to be more volatile than large caps. This means they are more likely to experience sharp price fluctuations. The biggest risk from our SPDR Russell 2000 US Small Cap UCITS ETF analysis seems to be that it is not a good investment for retirees. The fund is too volatile and therefore may not provide the desired stability.
The return of Russell 2000 ETF depends on many factors. Including how well it performs against its benchmark, your entry point, investment strategy, et cetera. In general, the average return could be around 6 - 10% per year. This is based on historical data and of course may vary.
As a tip from after this Russell 2000 ETF analysis, we can say that especially long term investors can benefit from this fund. A tactic of monthly buying + buy the dip on steep price declines can lead to higher returns.
Where to buy ETF's?
It is important to buy the Russell 2000 ETF on the best investment platform. They offer a wide range of ETFs so you can build a good portfolio. They also have low transaction costs. Some even offer commission-free investing. In the long run, this saves a lot of costs.