Dear Happy Investor, in this article you will find a comparison between Coinbase vs. Binance in relation to crypto investing. The question is: which is the better choice for crypto investing, Coinbase or Binance? We will examine both crypto brokers on general terms such as pricing model, crypto offering, safety, regulation and pros and cons. 
Let us compare!
Coinbase vs. Binance Comparison for Crypto Investing
First a brief overview of both Coinbase and Binance to get more understanding of both crypto brokers. 
Overview of Coinbase

Coinbase was created in 2012 as a Bitcoin-only trading platform. It is essentially a cryptocurrency trading and investment platform that allows you to perform what the phrase "the market" implies. There, you may buy, trade, and exchange hundreds of cryptocurrencies. With the introduction of new cryptocurrencies, Coinbase extended its platform and acquired significant cryptocurrencies based on certain criteria. They offer over 160 cryptocurrencies to trade on their site. The Coinbase trading platform is straightforward and user-friendly for newcomers. It also offers a pro platform called "Coinbase Pro" for professional users. 
Coinbase offers free USD and crypto wallet services on its platform. However, there is a transaction cost when using the Coinbase platform. Coinbase imposes minor fees on crypto transactions when making orders and funding or withdrawing funds from your account, depending on your preferred method. The exchange offers suitable ways for depositing and withdrawing funds from the account. The smartphone app is extremely engaging and simple to use for people of all ages. Coinbase promises to educate traders by offering a vast collection of instructional information. Coinbase is also thought to be a secure platform as it provides two-factor authentication.
Also read our eToro vs. Coinbase comparison.
Overview of Binance
Binance, the world's biggest cryptocurrency exchange, is based in China and was launched in 2017 by software engineer Changpeng Zhao. It has 500 cryptocurrencies available for trading on its exchange. Aside from cryptocurrencies, it also makes sure the availability of a wide variety of fiat currencies, such as EUR, GBP, USD, HKD, AUD, and INR. The exchange provides a variety of trading tools, such as real-time charting tools. Aside from that, it offers moving averages and exponential moving averages. The software also allows traders to rapidly access their trading history and portfolio. It offers trading platforms like the Binance app and the Binance desktop. 
Binance helps its clients by charging (very) low trading costs. However, the prices for U.S clients are somewhat higher. Fees are often set based on trade volumes and BNB balance. The bigger the trade volume, the smaller the fees will be in generic. In terms of security, the binance is more secure. It enables two-factor authentication, device management, addresses whitelisting, and device access restriction. There is a specific facility of FDIC insurance for U.S customers. The account opening procedure is straightforward and simple to follow.
Also read our eToro vs. Binance comparison.
Crypto Range: Coinbase vs Binance
Coinbase offers a sufficient choice of cryptos to be a trader on their exchange. There are now 160 cryptocurrencies that may be traded easily. However, the availability of crypto differs depending on where your jurisdiction. Aside from that, Coinbase provides three basic currencies (USD, EUR, GBP) for funding the account. On the downside, the coinbase does not provide NFTs, yet the launch is in the process.
On the other hand, Binance offers the trading of over 500+ cryptocurrencies. The number of cryptos is still increasing. In comparison, there are over 65 cryptocurrencies accessible to U.S clients. Binance also accepts fiat currencies like AUD, USD, GBP, EUR, HKD, and INR. Furthermore, on the Binance Exchange, you may access extensive exposure to NFTs. The amount of cryptocurrency accessible may differ depending on your region.

Pros and Cons: Coinbase vs Binance
Let us exaime the pros and cons while comparing Coinbase vs. Binance. First the pros: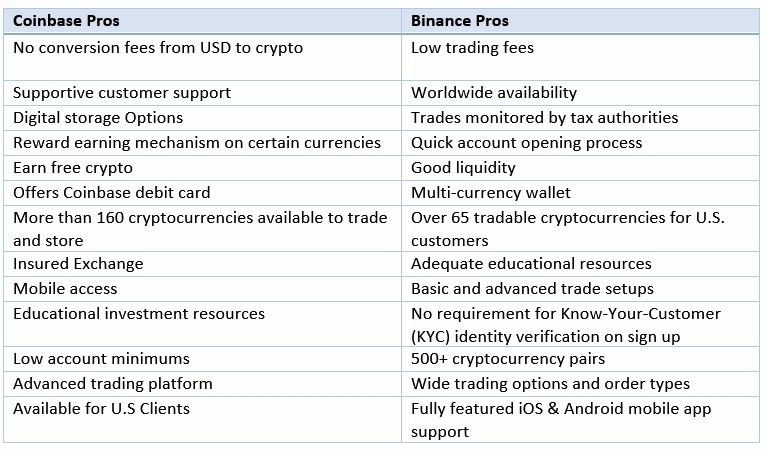 Here is an overview of cons for both crypto brokers:

Pricing and Fees: Coinbase vs Binance
Here is the fee comparison of both platforms. In a summary, Binance is much cheaper than Coinbase based on transaction fees. In the long run, this could save a lot of money for active crypto traders. 

Safety and Security: Coinbase vs Binance
Coinbase is insured, but it doesn't imply there's no danger when dealing with cryptos. Because crypto is a highly volatile market, the trading risk is always there. Coinbase maintains a robust security system by adhering to industry-leading security principles. The majority of deposits are kept in cold storage, the website is protected by bank-standard encryption, and a skilled crew is on hand to keep the exchange safe from hackers.
Binance, on the other hand, improves traders' ultimate security. Two-factor authentication is a security feature (2FA). There are options for dealing with device management, whitelisting, and restricting device access.
Learning and Education: Coinbase vs Binance
For traders from all across the globe, Coinbase offers free instructional information. It is regarded as one of the most prominent proponents of crypto education. You can even make money if you learn about cryptos. There are instructional sections where you may learn about certain tokens or crypto. Finally, there will be a quiz, with winners receiving prizes.
Binance offers free instructional materials to help both new and experienced traders improve their trading skills. Binance Academy's mission is to increase blockchain knowledge and cryptocurrency education.
Which one is Good for What: Coinbase vs Binance
Concluding here, from a cost perspective, Binance is comparatively cheaper than Coinbase. However, if your perspective is learning, Coinbase will be the leader in that as it provides quiz-based education. As far as the number of cryptos is concerned, Binance takes a lead as well. So for different perspectives, it seems that Binance is a better choice in comparison to Coinbase (for crypto investors). Do keep in mind that choosing a crypto exchange simply depends on the set of your priority. You can overview each section elaborated above under different headings and go for that one that suits you the most.