Dear crypto investor, in this article we are going to compare eToro vs Coinbase for buying crypto coins. Of course, the central question is who is the best crypto broker, eToro or Coinbase? We don't judge this solely on who is the cheapest. In addition to all the costs for crypto, we also take a detailed look at the pros and cons for each platform. Finally, we examine reliability. 
On to the comparison!
Content
Features: eToro vs Coinbase
eToro is a multi-asset investing platform launched in 2007 in Tel Aviv-Yafo, Israel. It is endorsed by the CySEC, ASIC, FCA, FSAS, MiFID, ICF, FSCS and AFSL. eToro provides a wide product portfolio to invest in. It offers investment possibilities in Forex, Stocks, Commodities, Indices, ETFs, and Crypto. It also offers an in-house trading platform for mobile and desktop that is simple to use and highly engaging. eToro delivers one of the greatest educational and research material for beginners and professional traders. They encourage a commission-free atmosphere and substantially narrower spreads to enjoy trade. 
To test your strategy, you may proceed with the free demo account. It also provides swap-free Islamic accounts for trading. The minimum deposit requirement is 10$, but there are no transaction fees when feeding and withdrawing your account. You may go with varied choices like wire transfer, credit/debit card, PayPal and e-wallets to fill your account. eToro's financing and withdrawal are seamless, simple to follow and 100 percent free. The account inactivity cost is 10$, which is payable after 12-Months of inactivity. [i]
Click here for more information and create a free account at eToro
Coinbase profile
Coinbase was founded in 2012 as a crypto broker to buy Bitcoin. The crypto investment platform was founded on the basis of security and reliability. Indeed, at the time it was ruled by hackers. Today, Coinbase is still very secure, as well as expanded. The secure has become less relevant, as many crypto brokers today are reliable. 
In context of coinbase vs. eToro, they have a larger selection. They have roughly 160 crypto currencies on the platform to invest in. Coinbase trading platform is easy for crypto beginners. For professional users, it also offers a pro platform, referred to as "Coinbase Pro". 
Coinbase provides free USD and crypto wallet services within the platform. However, they charge high transaction fees. Coinbase charges nominal fees on crypto transactions while placing the orders and when you fund or withdraw the account, depending on your chosen method. The exchange provides adequate methods to deposit and withdraw the account. The mobile app is highly interactive and easy to use for every mindset. Coinbase intends to educate the traders by providing an impressive library of educational resources.
Crypto Range: eToro vs Coinbase
eToro is one of the largest investment platforms in the United States and Europe. They offer many products, including stocks and ETFs. But unlike forex, indices, ETFs, et cetera, there are fewer number of crypto products available. Currently, there are 40+. The quantity is increasing though.
Coinbase provides an bigger range to cryptos in comparison to eToro. Currently, there are 160 cryptocurrencies that one can trade easily. However, the availability of crypto varies according to your location.

eToro vs Coinbase comparison on pros and cons
Let's compare Coinbase and eToro on all the advantages and disadvantages. These are housed in the tables below. It is an objective display of the advantages and disadvantages at both Coinbase and eToro. 
Overall, these are the biggest differences between the two crypto brokers:
Coinbase offers the most crypto coins but is also much more expensive than eToro
eToro also offers many other features besides crypto, including stocks and ETFs
These are all the pros and cons: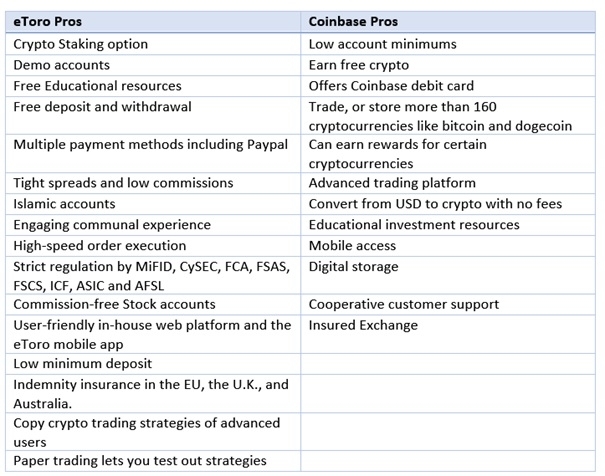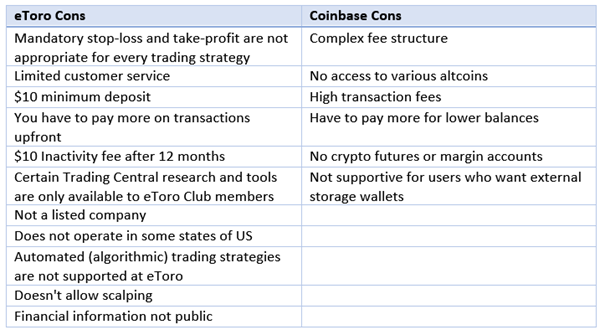 Pricing and Fees: compare eToro vs Coinbase on pricing
Unfortunately, eToro does not offer zero spread accounts; however, it provides traders with 0 commission accounts. The broker provides very tight spreads starting from 1pips and commissions as low as 0 $ per standard lot per round. eToro does not have nominated account types. However, it can be distinguished as the accounts for retailers, professionals, and eToro Club members.
Coinbase has a different pricing and fees structure. You will be paying proportionately lesser as your transaction volume rises. Up to 200$, they charge fixed fees, while above that, you will be charged percentage-based fees.
Trade Size $10 or less: $0.99 Fee
Trade Size $10 to $25: $1.49 Fee
Trade Size $25 to $50: $1.99 Fee
Trade Size $50 to $200: $2.99 Fee
Besides the fixed trade fees, there are spread-based fees too. You may have to pay upto 0.50% on transactions.
In addition to the transaction fees, Coinbase also charge transfer fees. The structure is as:
Bank Account/ USD Wallet: 1.49%
Wire Transfer: $10 incoming, $25 outgoing
Crypto Conversion: 2%
ACH Transfer: Free
Debit/Credit Card: 3.99%
Purely on a cost basis, eToro is cheaper than Coinbase. In the long run, this saves big money. Coinbase is also the most expensive in the market. It's high time this good crypto broker lowered its costs.
Safety and Security
eToro is regulated by the CySEC in Europe, ASIC in Australia, FCA in UK, FSAS in Seychelles, MiFID, ICF, FSCS and holds AFSL license. Being regulated by these institutions indicates a sense of safety and security. It must not be treated as if there is no risk while dealing in financial instruments with the broker.
Coinbase is known for being one of the safest crypto platforms. Possibly they are even the safest of all. This is what Coinbase has stood for for years: safe crypto trading.
However, it does not mean there is no risk factor while dealing with the cryptos. The trading risk is always there as crypto is a highly volatile market. Coinbase follows a strong security system by following industry-leading security practices. The large chunk of deposits is stored in cold storage, the website is secured through bank-standard encryption, and a talented team is there to protect the exchange from any hacker.

Learning and Education: eToro vs Coinbase
eToro provides a large selection of free instructional tools for beginners and seasoned traders. You may get adequate video and written material to fill your brain with extending trading information. To trade successfully with eToro, you must first have a significant comprehension of the eToro trading tools and marketplaces. 
Coinbase provides free educational content for traders from all over the world. It is considered one of the leading promoters of crypto education. You can even earn if you learn about cryptos. There are learning sections where you will be taught about certain tokens or crypto. In the end, there will be the quiz; winners will get rewards for that.
Overall, eToro is the best choice as a crypto broker. While they do offer fewer altcoins than Coinbase (40 vs. 160), the fees are significantly lower and they also offer better features (including stocks and ETFs). 
Click here for more information and free account creation.