Dear Happy Investor, do you consider to start crypto day trading in an attempt to increase your profits? That's a bold move! We are long-term investors, but we do recognize the potential benefits of crypto day trading. It is a fact that skilled day traders are making serious money with cryptocurrencies. However, there is a very high risk of losing money. Hence, crypto day trading is only suitable for skilled day traders. But to become skilled, you must learn.
In this article we will help you by providing 5 crypto day trading tips for beginners. This won't make you a successful trader (yet), but it will increase your basic knowledge about crypto trading. In this way, we want to help you in reducing risk.
Let us begin!
Contents:
Tips for Crypto Day Trading
This guide will shed light on a few of the most important crypto day trading tips. As we are addressing crypto trading for beginners, we'll try to be as comprehensive and realistic as possible. We have selected 5 crypto day trading tips for beginners to start with. You can apply our lessons today, or use them to increase your knowledge.
Before we continue, you should understand that crypto day trading is of very high-risk. It should be considered as an asymmetric investment. Hence, we would prefer to invest only 3% - 10% of our total portfolio in such risky assets. 10% is already considered as very high risk, in our opinion. We prefer to invest in the best stocks, as they give less risk and interesting returns.
Let us continue with our 5 crypto day trading tips for beginners.
Crypto Day trading tips 1. Diversification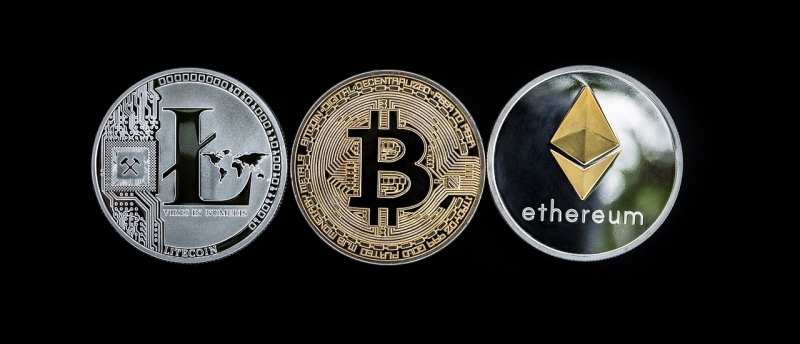 As we all know crypto markets are very volatile. Even ones that appear to promise inexhaustible positive returns might collapse under particular economic conditions. You can make a huge amount of returns in a day or less, but the converse is also true. Anyone can lose everything you've put into digital assets. Especially new crypto coins with potential can behave in extreme manners.
How to deal with this?
Diversification is the greatest method to overcome such uncertainty.
Diversification not only means spreading your investment among multiple assets but also using a feasible percentage of risk on each asset. Let's give you an example.
Suppose you have a $10k investment that you want to put in crypto day trading. The first and the most important thing is to choose the cryptocurrencies you want to trade. You can set criteria for choosing crypto in this case. It could be anything, fundamental news or a technical perspective. But choosing crypto just because you like it, is not enough. Therefore, an investment thesis is very important.
Then you need to define the % risk of the total investment you want to trade in that crypto. Never exceed your risk more than that defined %.
For example: a high-risk trader can allocate 10% per crypto coin. A low-risk trader should only allocate 1% or less per crypto coin. In fact, if you have no experience in investing at all, we recommend to avoid crypto day trading in the beginning. Increase your knowledge and experience first. Start with lower-risk investments such as the best dividend ETFs or start with real estate investing instead.

Crypto Day trading tips 2. Be careful with Altcoins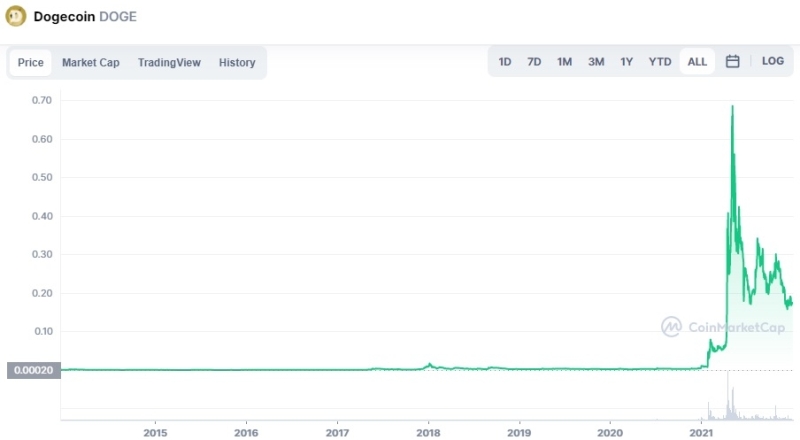 Meme coins kunnen extreem gedrag vertonen
Second crypto day trading tip for beginners is to be careful with altcoins. Many Altcoins lose value over time, often in an extremely short amount of time. As a result, it's critical to recognize that anytime you're holding an altcoin for the long haul, you shouldn't keep it for too long, especially while day trading. The daily trade volumes are one of the best indicators of coins that are ideal for day trading. The more daily trading volume crypto has, the better it is for long-term investments.
Consider investing in popular and most appreciated altcoins such as Ethereum (ETH), Ripple (XRP), Solana (SOL) and Cardano (ADA) if you're thinking about going long with cryptocurrencies. Such coins usually have huge trading volumes on most of the crypto exchanges.
Keep an eye on the charts and note the numerous price spikes. The chart patterns can help you figure out when the best time is to trade a coin if you understand technical analysis.
If you don't understand technical analysis yet, then it would be wise to invest in your knowledge first. Perhaps you can read more articles about technical analysis and watch video's. However, free content is not always the best. Thus, you might consider following a day trading course as well.
Crypto Day trading tips 3. Buy low and Sell high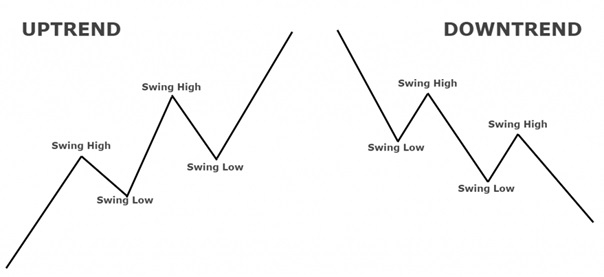 Third crypto day trading tip for beginners is to 'buy low and sell high'. We always encourage beginners to start with the basics of trading, whether it is fundamental or technical analysis. Buy low and sell high, in theory, means buying when a price is less and selling when the price is high. But when we dig deeper, we understand that this is just a trend following technique. However, experienced traders can also use it for counter-trend and range trading as well. Let's enlighten you.
Once a trend is identified on a larger timeframe, you can try to day trade it in a smart way. In any trend, there is always an impulsive move/leg in the direction of the trend and a weak move or correction in the opposite direction before the next impulsive leg. In a bull run, going long (buying) after the price correction or on a swing low to follow the trend is always a good idea. On the other hand, going short (selling) after the correction or on a swing high is the smartest decision in a bear trend.
This may not be much of a crypto day trading tip for beginners, but it is important to know and gain experience.
Crypto Day trading tips 4. Avoid FOMO
The fourth crypto day trading tip for beginners is to avoid FOMO. Fear of missing out (FOMO) in crypto day trading turns into losses in no time. Whenever our audience wants crypto day trading tips, we always include psychological tips. Fear of missing out (FOMO) is a common beginner's mistake. And not limited to crypto trading.
We always say: plan the trade and then trade the plan. Fear of missing out is experienced by someone who hadn't done his homework before the day or made a pre-market plan.
We always tip beginners that serious trading is 10% trading and 90% waiting. That is only possible if you have a trading plan for the day. In pre-market preparation, you need to identify the crypto chart that aligns with your trading strategy. Once you have it, then the only thing you need to do is wait. Wait for the trading signal, and once you have a confirmation, place the trade with confidence.
Besides, looking at a chart and placing the trade just because you don't want to miss this trade might end up in regret. And, in the end, there is always a new opportunity coming. So even as day traders we need to have patience 😉.
FOMO makes beginners buy peaks and sell the lows. What if you have spotted a trend that is about to reverse, and you place trade out of FOMO? We all know what will happen in this case.
Crypto Day trading tips 5. Admit when you are wrong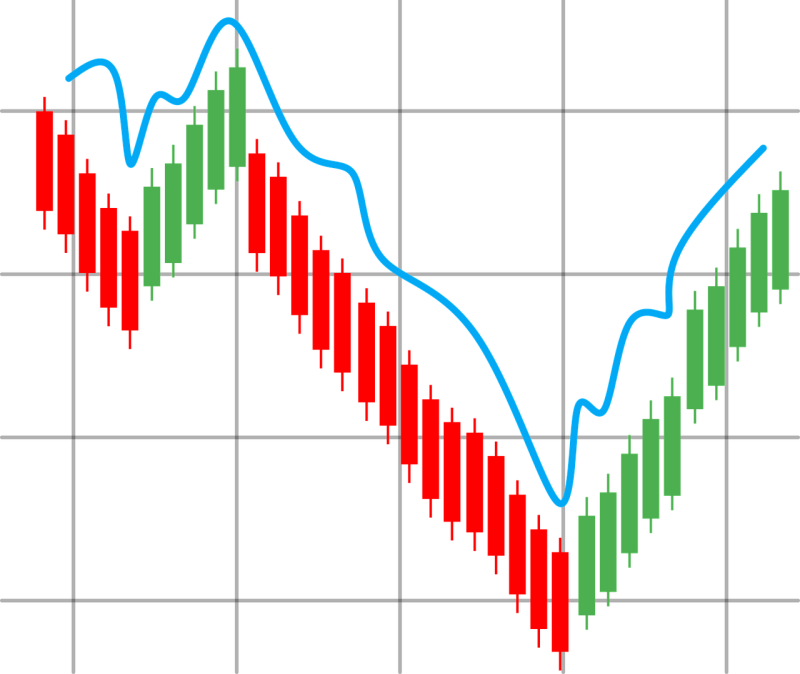 Our 5th and last crypto day trading tip for beginners is to be humble. Look, you are trading probabilities. Or, in simple words, you are trading a strategy based on its winning probability. To know when you are wrong is more important than knowing when you are right. Because we think risk management is more important than anything, as it will keep you in the game even after losses.
If you have entered a trade and the price has started going against you to a certain point where you know that your trade idea fails. Closing the trade with a small loss will be the wisest decision at that point. On the contrary, if you hold that trade out of ego or hope of not taking this loss, your loss will grow as time passes. Admitting a mistake and responding quickly in the opposite direction will help you in your trading journey.
Besides, being wrong and profitable is better than being right and taking a loss.
Where can I start with crypto day trading?
Don't have an investment account yet and want to start with crypto day trading? In this case it is wise to make a comparison between brokers. An important factor in the comparison is to look at transaction costs. In crypto day trading you trade frequently. Maybe even every day. As a result, you perform a lot of transactions. The lower the transaction costs, the lower the cost.
In addition to costs, functionalities and offerings are also important. Advanced traders make more use of analysis tools than beginners. And in terms of supply, it's good to look at platforms that offer at least 30+ crypto coins. That way you can diversify enough (see tip 1).
For inspiration you can check out these platforms:
eToro - overall trading platform crypto and equities
Binance - crypto platform with 500+ crypto coins and low fee
Kraken - safe and trusted crypto platform
Bitvavo - 150+ crypto coins with 0.25% fee