Dear Happy Investor, in this article we describe a Plus500 crypto review. An overview of what Plus500 is and what options you have in relation to crypto investing. In this review we explain why Plus500 is a reliable crypto broker, but that it is very wise not to speculate through Plus500. We want to warn you about the high risks.
Let us begin the Plus500 crypto review.
Table of Contents:
Plus500 Crypto Investing Review
Plus500 is an Isreal based broker that was founded back in 2008. The current headquarter is based in Haifa. The broker deals in a wide range of CFD trading instruments, including stocks, commodities, forex, cryptocurrencies, indices, options, and ETFs.
The broker is listed on LSE. However, it does not have any banking license. The Australian Securities and Investments Commission (ASIC), UK's Financial Conduct Authority (FCA), Financial Markets Authority (FMA) of New Zealand, Cyprus Securities and Exchange Commission (CySEC), Financial Sector Conduct Authority (FSCA) of South Africa, Israel Securities Authority (ISA), Monetary Authority of Singapore (MAS) and the Seychelles Financial Services Authority (FSA) regulate Plus500 in different jurisdictions around the world.
The broker provides trading opportunities through the proprietary Plus500 WebTrader and mobile apps. They apply 0% commission. The broker only charges based on spreads. If you want to open an account with the broker, you must have to have at least USD 100. In addition, Plus500 charges $10 as an inactivity fee if there is no trading activity in the past 3 months. You can choose any way to fund your account as the broker enables you to use bank transfers, credit/debit cards, and some online payment methods. They also offer a free demo account and an Islamic swap-free account. The customer support is highly responsive, and you can contact them via web form, email, and online chat.
In general, Plus500 is a very solid and well-know CFD broker for both stock and crypto investing. However, the issue is that they only offer CFD trading. This kind of trading is known for its very high risk. More than 80% loses money at Plus500.
In any case we strongly recommend you to not engage with CFD trading. We believe in long-term investing in very strong, profitable companies at a fair price and just hold on to them. This style of investing include significantly less risk.

Review Plus500 costs, commissions and spreads
Trading crypto at Plus500 is actually very cheap. This is why so many novice investors test their luck with the high-risk game of CFD trading. The other reason is that they try to earn fast money. However, the irony is that >80% loses money. Avoid the desire to get quick rich. It will surely lead to higher loses.
Back to the Plus500 review. In all fairness they offer very low costs. For example, they don't charge commission. They offer tight spreads (check the website for details). And conversion fees are upto 0.7% wich is acceptable.

Crypto Offerings at Plus500
At Plus500, crypto trading is available through CFD only. Crypto trading through the underlying asset like Bitcoin is not available at Plus500. This is a downside for crypto trading at Plus500. We have reviewed many brokers and there are options that allow direct investing in crypto assets. This is more suitable for long-term investors.
For example you could buy crypto at eToro or NAGA and hold on to them. Binance and Coinbase are brokers that allow you to buy the crypto asset directly, instead of via a CFD.

CFD Risks and Limitations at Plus500 Crypto
With crypto CFDs trading at Plus500, there is a potential of gaining magnificent returns with a little investment. However, you could easily lose all your money. The Crypto market itself is highly volatile. To date, it is considered as the highest volatile market even than that of the Forex market. With the potential of high gains in trading the Crypto CFDs at Plus500, beginner-level traders always overlook the risks.
Here are some generic risks and limitations you could face while trading in crypto CFDs with Plus500:
While dealing with Crypto CFDs, a trader may be prone to market risk. Unexpected information, changes in market circumstances, and changes in government policy may all lead to rapid shifts. Because of the nature of CFDs, modest adjustments may have a significant influence on returns. A negative impact on the underlying asset's value may need a second margin payment from the supplier. If margin calls are not fulfilled, your position may be closed, or you may be forced to sell at a loss.
Many financial transactions are influenced by market circumstances, which may raise the risk of loss. When there aren't enough transactions for an underlying asset in the market, your current contract may become illiquid. At this stage, a Crypto CFD provider may demand extra margin payments or close contracts at a lower price. Due to the fast-paced nature of financial markets, the price of a Crypto CFD may decrease before your trade can be completed at the previously agreed-upon price. A practise known as gapping. This implies that the holder of an existing contract would have to accept lower-than-ideal earnings or pay any losses experienced by the CFD provider.
CFD's include very high risk. Especially because they easily allow the usage of leverage. With leverage it is possible to earn a lot with a tiny investment. But the opposite is mostly true. It is very likely that you will lose more money than you can make.
Plus500 Crypto Investing Comparison: Alternatives
If Plus500 does not fall on your expectations, you can go for alternatives. Since dozens of online brokers have been operating internationally. Plus500 is one of the biggest brokers for CFD investing. It is true that they have a lot of instruments and tools. They are also highly regulated. So if we purely consider CFD trading, they are an excellent choice.
However, as mentioned earlier, we strongly recommend to not choose for Plus500. Please choose an investment broker that offers normal stocks and ETF's. Invest for the long term. Construct a diversified portfolio and hold on to it. Only invest with money you can afford to lose!
Here are a few of the other choices you can go for other than Plus500: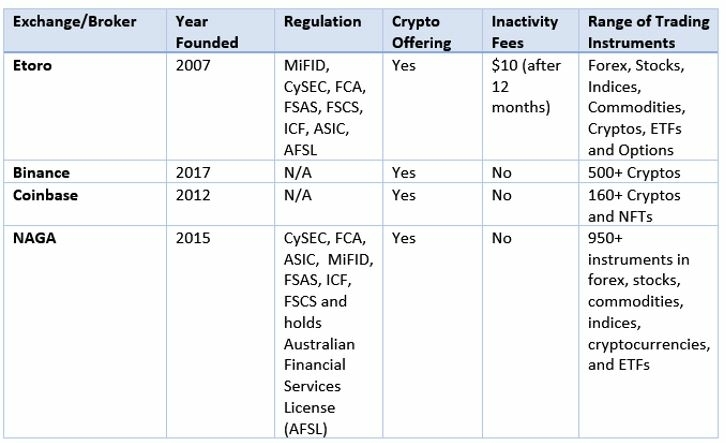 Plus500 Crypto Pro's and Con's: a reliable investing platform?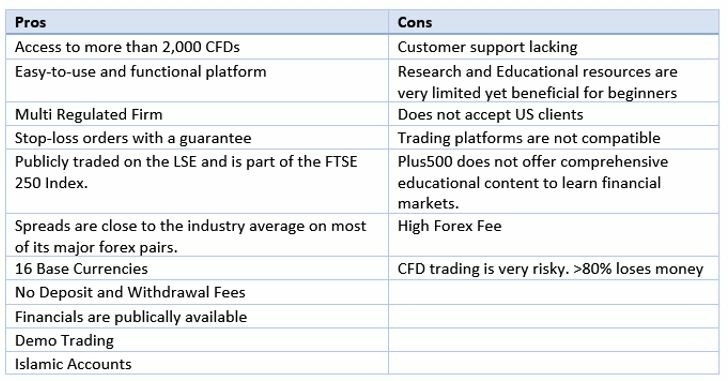 Above in the bullets, some generic risks are quoted. However, if Plus500 is practically examined on these scenarios, the broker has intesting features for CFD (crypto) traders. While dealing with crypto CFDs, the broker's reputation is a matter of concern. Plus500 is a well-regulated broker, and we score it "good" and "reliable" for the safety and security they provide.
To minimise market risk, the broker has provided educational tools like economic calendars, news, and Market insights. By prudently using these tools, the trader can make informed decisions to lower market risk.
Due to high market volatility, sometimes traders have to face a negative balance. But this is not the case with Plus500, as it offers negative balance protection. So, in the worst-case scenario, you won't lose more than you have.
If we measure the broker's credibility based on customer base, Plus500 is one of the best brokers for speculators. For long-term investing, you need a lot of time, professionalism, and experience. You have to be strong with the nerve. Crypto is volatile, and you must trade short-term and know your entry and exit levels. This is more difficult than long-term investing, as the latter will decrease your risk if you extend your holding period of a diversified portfolio.
This Plus500 crypto review may sound positive, but keep in mind that trading crypto CFDs involves very high risk. Over 80% lose money, if not all their money! Avoid trading CFDs for crypto, stocks, or other assets. This applies to Plus500 and all other CFD brokers. Our recommendation from this Plus500 crypto review is simple: don't do it.