Dear Happy Investor, the real estate metaverse continues to grow in popularity. What is it, and how can we invest in the real estate metaverse? There are a variety of projects out there. Below we discuss news and developments of fun, potential projects. We don't think it's a wise investment, but it's fun and interesting (especially for young people). 
Let's look at the options! 
Real Estate Metaverse for beginners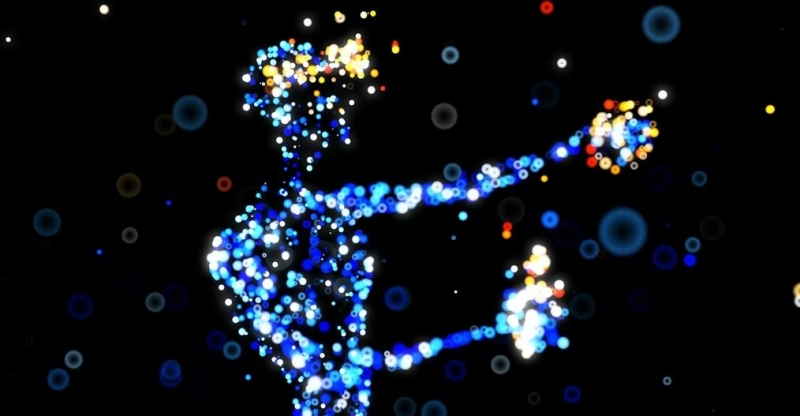 Metaverse real estate refers to land portions or plots in virtual worlds. In the most basic sense, they are pixels. They are, however, more than simply digital images. They are programmable areas on virtual reality platforms where users may socialize, play games, sell NFTs, attend meetings, attend virtual concerts, and engage in a variety of other virtual activities.
One may conceive it as pixels. Another may see new opportunities in real estate metaverse. It is, of course, much riskier than investing in real estate. Physical real estate is tangible, has calculable economic value and can at least generate cash flow. Real estate metaverse is not tangible. It is traceable (because of blockchain). But supply and demand are more uncertain since people don't have to actually live and interact in virtual real estate. 
Real estate metaverse is a form of investing in crypto. It is totally unsuitable for beginners. Moreover, it has very high risks, especially since it is speculation. But that doesn't mean it doesn't offer opportunities in the long run. Below we discuss news and developments within the virtual real estate world.

Real Estate Metaverse projects: news & developments
There are new developments within the real estate metaverse. Several old and new projects are developing into real investment opportunities. Or, at least they can be fun as metaverse crypto games. Let us look at the news and developments within real estate metaverse. 
Note: watch out for the high risk of crypto investing. Real estate metaverse is no different. Learn more about crypto investing for beginners. Avoid losing money. 
Project 1. Decentraland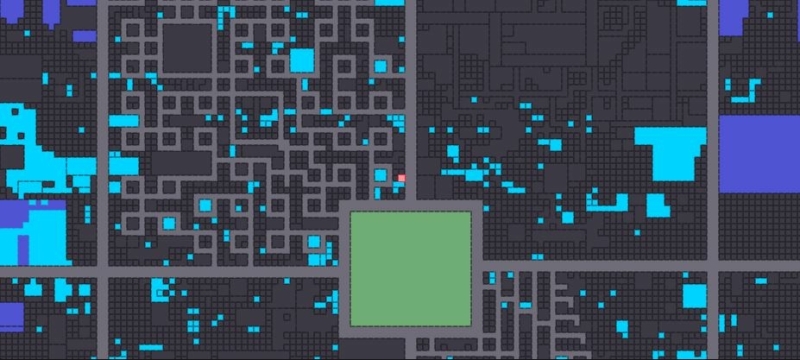 land in decentraland. source: decentraland
It is one of the world's largest metaverses, and chances are you've heard of it if you're interested in land NFTs. Decentraland is a real estate metaverse project. The project aims to harness the same sense of gathering, interaction, and networking and use Web 3 technology to create an immersive experience.
Cryptocurrencies were also relatively underdeveloped and underutilised while the project was in its infancy. However, there has been widespread adoption of crypto and NFTs, and Decentraland has benefited greatly as a result. In 2016, the developers began work on Bronze Age, a 3D virtual world divided into land parcels. Each of these parcels of land was recorded on the Bitcoin blockchain.
Since then, the project has progressed into the Iron Age, making it accessible to all users and including interactive content, a communication layer, and peer-to-peer (P2P) capabilities. Users must acquire a piece of land NFT in order to obtain access to Decentraland.
The land NFTs themselves are 1616 portions of land with unique coordinates that enable users to locate themselves in the real estate metaverse. Decentraland has a total of 90,601 plots of land, of which 43,689 have already been sold. In addition to land, the real estate metaverse's virtual economy is powered by MANA, an ERC-20 token (one of the greatest metaverse currencies stored on the Ethereum blockchain).
On the primary market, one land plot costs 1000 MANA. However, since these prices are unregulated on the secondary market, they follow the same supply and demand model as previously discussed. This indicator indicates that there is the potential for significant profits in property purchasing and selling.
Early investors have already taken advantage of this, as the most expensive plot of land in Decentraland sold for more than $900,000 in December 2021. The price of each NFT real estate land plot now ranges from roughly $5000 to well over $100,000.
Users who own a plot of land have the opportunity to vote on future administrative and operational decisions. This implies that the members truly control the metaverse, which separates it from many of its counterparts. All of this voting takes place on an Aragon-powered DAO.
Project 2. The Sandbox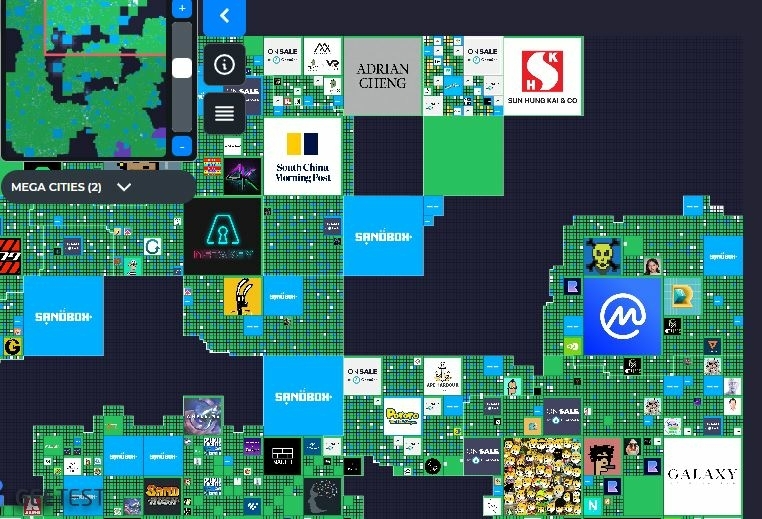 land in sandbox. source: Sandbox
The Sandbox is an Ethereum-based metaverse that aims to redefine the NFT gaming industry. It provides a play-to-earn virtual reality, similar to other real estate metaverses, allowing players to design, develop, buy, and sell digital assets and other in-game elements. Pixowl first introduced it in 2012.
As a result, it will have a similar story as Decentraland, gaining fame with the rise of crypto and then exploding in users in 2021. Celebrities such as Deadmau5, Snoop Dogg, and Atari have all endorsed The Sandbox, lending credence to its mission to redefine the NFT gaming market.
The Sandbox is unique in that it incorporates three major components: Marketplace, VoxEdit, and Game Creator. The VoxEdit allows users to create their own animated 3D objects in the real estate metaverse.
These may literally be whatever the users wish. When an item is created, it is referred to as an ASSET, and it is stored as an NFT under the ERC-1155 token. These ASSETS may subsequently be bought and sold on the secondary marketplace.
In addition to ASSETS, users may exchange LAND, similar to Decentraland. The LAND is represented by NFTs stored as ERC-721 tokens. Each NFT is 9696, and players may buy and sell them as they see fit. Users who possess LAND may build houses to rent or sell. These may also be incorporated into games.
The Sandbox habitat has a limited quantity of 166,464 LAND. The Sandbox has ended its Alpha Season 1, during which players were able to experience the metaverse firsthand.
The Sandbox metaverse's governance token powers both ASSETS and LAND. This is the SAND ERC-20 token. To date, over 5 million SAND tokens have been issued, and over 15,000 NFTs have been sold to primary market investors. This implies that there is still plenty of opportunity for early investors. The Sandbox ecosystem is made up of all of these elements.
Project 3. Silks
Silks is the world's first blockchain-enabled thorough horse racing metaverse. It is supported by a play-to-earn in-game economy in which users may earn cryptocurrency by contributing to the ecosystem and developing their gameplay.
The community will be able to purchase, trade, and accumulate digital tokens that represent racehorses in the real world. Users may also cultivate land and horse farms by buying, selling, and acquiring NFT land parcels. They will also have access to additional interactive digital materials required for supporting and developing the Silks ecosystem.
The idea behind launching the real estate metaverse is to provide the thrill of horse racing to a large number of people. This real estate metaverse project is built on the model of the US horseracing industry, where 20,000 foals are born and trained each year for the race.
This industry has a large presence, with over 30,000 races held each year, 50 million people betting, and over $11 billion wagered on races. Given these staggering figures, it seems that the Silks ecosystem has the potential to pique the interest of the horseracing community. It might result in huge gains for early investors, especially those who cultivate early land NFTs and sell them to new users. Members of the Silks ecosystem may participate in the game by predicting land, constructing land into horse farms, trading horses, and breeding horses.
Individuals may earn rewards by doing each of these tasks, which is a fantastic feature to consider. Users will get $SLK as a token for completing these tasks. SLK is a fungible non-inflationary token built on the blockchain and controlled by a decentralized autonomous organization. 
Silk sounds like a fun development within the real estate metaverse. On the other hand, it's just a game. Don't get caught up in hypes. Keep thinking rationally and soberly. How much value does it really offer? If you believe in it, you can bet a small amount, but take into account significant losses. Think of it as gambling: if you win, you are very lucky.
Project 4. Upland
Upland is a new real estate metaverse game. It is a kind of replica of the physical world. The game allows you to buy real estate in major cities. Currently, this is mainly in the United States, but they are eventually developing other countries. Later it may be possible to buy virtual real estate in Amsterdam. 
The real estate you buy provides cash flow every month in the form of crypto coins. In addition, you can sell the metaverse real estate to buyers. Significant profits are already being realized in this new project. 
How to invest in real estate metaverse?
The developments of new projects within the real estate metaverse are promising. Especially the youth is sensitive to this. A bit of gaming and still potentially make a lot of money. And yes, those who were early members of Decentraland have literally become millionaires as a result. At least, if you had bought many popular land pieces early on. But who foresaw at the time that it would become such a hype?
And who foresees that real estate metaverse is still a good investment today? Putting down a few thousand dollars for a piece of "virtual land" that you can't actually do anything with is a lot of money. 
We are passing this trend. Yes, it definitely has potential. But it's speculation. Gambling. In this case, we prefer successful long-term investing. More security. Lower risk. And even then we achieve high returns with the best stocks.
Still want to buy real estate in the metaverse? You can benefit in two ways. The first is by signing up one of the above projects. Buy real estate within the game. For this you do need the cryptocurrency. So a second way is by merely buying the cryptocurrency, hoping that its value will increase.