Dear Happy Investor, Do you want to invest in the global economy? In this Vanguard Total World Stock Index ETF analysis, we explain why VT is an interesting choice for passive and/or lower-risk investors. In fact, the VT ETF allows you to easily invest in the global economy. Of course, there are pros and cons, and this ETF is not without risks either. This and more is covered during our analysis of the Vanguard Total World ETF.
On to sustainable (financial) success!
ETF Analysis: Vanguard Total World Stock Index Fund ETF (VT)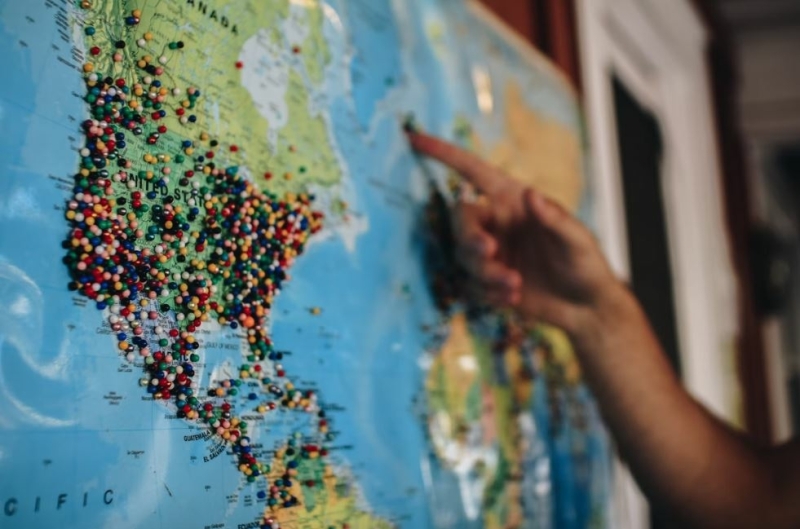 The investment aims to replicate the performance of a benchmark index that gauges the investment return of equities in developed and emerging economies throughout the world. The fund uses an indexing investing strategy to mirror the FTSE Global All Cap Index's performance.
The most important thing from this analysis of Vanguard Total World ETF is that it is the largest tracker with global diversification. There are 9000+ companies in its portfolio. This means that you basically only need to buy this tracker to get a good reflection of the global stock market.
Strategy of Vanguard Total World Stock Index Fund ETF
VT invests in developed and emerging market companies in a cap-weighted portfolio. The fund, like other peer funds, overlooks frontier areas, however ignoring countries like Vietnam and Kuwait has little influence on the fund's ability to follow the global market. Because VT includes small-caps, it is considerably more comprehensive than direct competitors like ACWI, IWDA and VWRL
The fund tracks the index using a sampling technique, which means it may not own all of the companies in the index, but rather a fair representation of assets that closely mimics the whole index in terms of major risk indicators.
The issuer employs fair-value NAVs, which reduce trading premiums and discounts while distorting traditional tracking statistics. Furthermore, rather than daily, it announces positions monthly. These factors, however, are far from decisive.
Pros and Cons of Vanguard Total World Stock Index Fund ETF
let's assess the advantages and disadvantages of VT.
Pros
The Vanguard Total World Stock ETF is an attractive option for investors looking for a robust portfolio that is well-diversified by sector and location, pays quarterly payouts, and does not need systematic research.
The biggest advantage to VT is its diversification
When you have a portfolio of more than 9,000 companies that is diversified by sector and region, the likelihood of suffering heavy financial losses is relatively low, but not zero, in the long run
Very low expense ratio (much cheaper than banks)
Cons
The only drawback to VT is that there is also such a thing as diworsification. This means that VT owns too many stocks in our opinion. A tighter selection of better companies/shares leads to a higher average return in the long run. With VT, you have a tremendous amount of diversification, but you miss the opportunity for higher returns (at acceptable risk)
Here are some important financials about Vanguard Total World Stock Index Fund ETF analysis:
Ticker: VT
Annual return since inception: 6.88%
Dividend: 1.82%
Number of holdings: 9451
Total expense ratio: 0,07%
P/E-ratio: 18.89 (according factsheet)

TOP 10 Stocks Analysis of Vanguard Total World Stock Index Fund ETF (VT)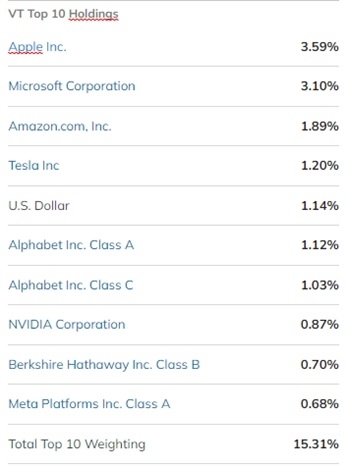 bron: factsheet VT
The top ten largest holdings account for 15.31% of the portfolio. The fund is mostly focused in US stocks, with almost 60.52% exposure.
VT ETF Analysis of top 10 holdings
Apple, Microsoft and Amazon stocks have the biggest impact on VT. In addition, there are other large companies in the top 10 holdings. By itself, this is not exciting activity, and the allocations are acceptable.
Microsoft Corp
Microsoft Corporation is a multinational corporation that creates, licences, and maintains software, services, devices, and solutions. Office, Exchange, SharePoint, Microsoft Teams, Office 365 Security and Compliance, and Skype for Business, as well as associated Client Access Licenses (CAL) for Skype, Outlook.com, OneDrive, and LinkedIn, are all available via the company's Productivity and Business Processes sector.
Its Intelligent Cloud sector licences SQL, Windows Servers, Visual Studio, System Center, and associated CALs, as well as GitHub, a code hosting and collaboration platform for developers, and Azure, a cloud platform.
It also offers support services and Microsoft consulting services to assist customers in developing, deploying, and managing Microsoft server and desktop solutions; and training and certification on Microsoft products. Its More Personal Computing segment provides Windows original equipment manufacturer (OEM) licensing and other non-volume licensing of the Windows operating system.
It also offers Surface, PC accessories, PCs, tablets, gaming and entertainment consoles, and other devices; Gaming, including Xbox hardware, and Xbox content and services; video games and third-party video game royalties; and Search, including Bing and Microsoft advertising. It sells its products through OEMs, distributors, and resellers; and directly through digital marketplaces, online stores, and retail stores.
Investing in individual stocks like Microsoft can lead to much higher returns than a diversified tracker like VT. On the other hand, the risk is of course much higher. This is why experienced investors put together a portfolio of 10 - 35 shares. The more experienced they are, the fewer shares they tend to own (focus investing).

Amazon.com Inc.
Amazon.com, Inc. is a multinational technology company, which engages in the provision of online retail shopping services. It operates through the following business segments: North America, International, and Amazon Web Services (AWS).
Retail sales of consumer items and subscriptions through North American-focused websites such as www.amazon.com and www.amazon.ca are included in the North America section. The International sector sells consumer items and subscriptions through the internet to people all over the world.
Amazon Web Services sells computation, storage, databases, other AWS services to start-ups, companies, government organisations, and academic institutions throughout the world. Jeffrey P. Bezos launched the firm in July 1994, and it is based in Seattle, Washington.
How diversified is Vanguard Total World Stock Index Fund ETF?
The Vanguard Total World Stock Index provides exceptional diversity. This huge tracker follows very many publicly traded companies. It is estimated that there are about 40 - 50K stocks. So VT tracks about 20 - 25% of all publicly traded stocks.
The impact of the weakest performers on the fund's overall performance is mitigated by broad diversification. More than 9,000 equities are included in the index, and the managers virtually perfectly mimic the benchmark. Only 15% of its assets are held by its top ten companies, giving it one of the least concentrated portfolios.
The benefits of diversity extend to the portfolio's geographical connections. It accurately reflects the global market's makeup, with US equities accounting for around 60% of assets.
Do note the disadvantage of the Vanguard Total World Stock ETF as indicated above in our analysis. The disadvantage is that it follows the market average of the global economy (more or less). As a result, you also get a lower average return. In terms of price expectation, you can assume about 6 - 7% on the long term of 20 years (see below). If you want higher returns, you will have to invest in the best ETFs or in individual shares. Of course, everything depends on your risk profile.

Risks and Returns of Vanguard Total World Stock Index Fund ETF (VT)
Let's review the risks and price expectation of VT
Risks of Vanguard Total World Stock Index Fund ETF
The main risk of investing in Vanguard Total World Stock Index Fund ETF is that it can be exposed to currency fluctuations. Because there are holdings across different countries, investors may see gains or losses due to currency fluctuations between those countries.
The fund's holdings are concentrated in the United States, which means that it is subject to the same risks as investing directly in U.S. stocks. If the U.S. economy starts to weaken, then this fund will be affected by that weakness and you may lose money on your investment. Therefore, it is not that the VT ETF is a guarantee of return. In the long run, the probability of return is considerably high, but nothing is certain.
Price prediction of Vanguard Total World Stock Index Fund ETF
Vanguard experts believe that yearly stock market returns in the United States will likely range between 3% and 5% during the next ten years. When you account for inflation, which Vanguard projects will be below 2%, the real rate of return will be less than 3%.
The reason VT's price forecast is low is because the stock market has performed very well in recent years. The valuation of certain stocks need time to return to attractive levels. But this is not true for all stocks, like the best stocks that offer future Value!
Where to buy ETF's?
It is important to choose the best investment platforms. They offer a wide range of ETFs so that you can build a good portfolio. They also have low transaction costs. Some even offer commission-free investing. In the long run, this saves a lot of costs.