Dear Happy Investor, sometimes it can be interesting to invest in a theme ETF of a specific country. In this ETF analysis, we examine BlueStar Israel Technology. This fund focuses on Israeli technology companies. Such a theme offers advantages and disadvantages and is really only suitable for advanced investors. This is because in this case we also need to consider macroeconomic and political developments. 
Is BlueStar Israel Technology ETF (ITEQ) a good investment? In this analysis you will find the answer.
ETF Analysis: BlueStar Israel Technology ETF (ITEQ)
ITEQ provides exposure to Israeli technology businesses in a broadly defined manner. Companies that fall under the umbrellas of health care, biotechnology, life sciences, aerospace, renewable energy, and agritech are all included in the fund's market objective, which carries a fairly comprehensive approach.
This fund offers investors a convenient way to gain exposure to Israel's fast-growing technology sector. The ETF's managers seek to invest in companies that have a strong growth potential, high profit margins, and a high return on invested capital. They also look for companies whose products are based on innovative technologies that are not yet fully developed.
Strategy of BlueStar Israel Technology ETF 
According our BlueStar Israel Technology ETF analysis, the objective of this fund is to produce investment returns that, prior to the deduction of fees and expenses, are generally comparable to the total return performance of the Index. The replication strategy is an indexing strategy that the Fund utilizes. 
This strategy entails investing in the securities that make up the Index in approximately the same proportions as the Index does. The market capitalization is used to determine to weight, and the index is rebalanced every six months.
Pro's and Con's of BlueStar Israel Technology ETF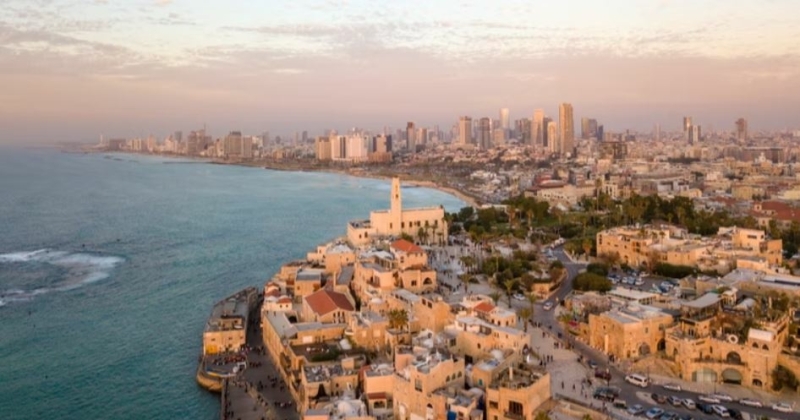 According our analysis of BlueStar Israel Technology ETF we conclude a few pros and cons.
Pros
Israel is a world leader in high-tech and software, with many Israeli companies dominating the global market. The ETF is diversified among these tech companies, so investors can get exposure to the Israeli technology sector without buying into a single company
The majority of the fund's holdings have a low correlation to other international stock markets, which reduces exposure to market downturns while providing opportunities for gains when they occur elsewhere
The technology sector is one of the fastest-growing in the world, and Israel's tech industry is expanding rapidly. Investing in this sector will help you balance out your risk exposure and give you exposure to a growing market that is often overlooked by investors
Cons
Israel has a volatile political climate, which could affect investor confidence and hurt stock prices of Israeli companies
The fund is heavily weighted towards Israeli tech companies that have a heavy focus on software development, which means that it is less diversified than lower-risk funds with more diversification in sectors and countries
Any changes in economic conditions or political events in Israel will affect its price more than if it had been invested globally with multiple companies from different sectors and regions around the world
This ETF is not suited for short-term investors who need to access their money in the near future, due to low liquidity issues and high volatility associated with this ETF
This fund is not cheap with a yearly cost of 0,75%
Here are some important financials about BlueStar Israel Technology ETF analysis:
Ticker: ITEQ
Annual return since inception: 8.82%
Dividend: 0.62%
Number of holdings: 73
Total expense ratio: 0,75%
P/E-ratio: 31.16 (according factsheet)
In short, we do not include ITEQ to our best ETFs. 

TOP 10 Stocks Analysis of BlueStar Israel Technology ETF (ITEQ)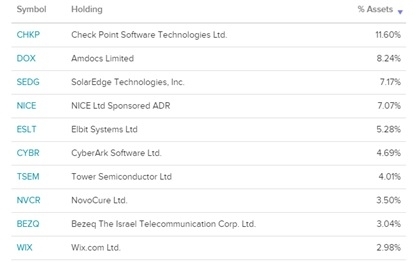 source: factsheet ITEQ
The top ten largest holdings account for 57.58% of the portfolio. The fund is also highly focused in Israel and US stocks, with almost 95% exposure combined.
Analysis of top 10 holdings
Let us proceed our BlueStar Israel Technology ETF analysis with an overview of the top 3 stocks within her holdings. 
Do you want to invest in individual stocks for high returns? Check our best stocks for inspiration on how to beat the market with asymmetrical investing. 
Check Point Software Technologies Ltd
Check Point Software Technologies Ltd., which goes by the name "Check Point," offers cyber security solutions to both the government and businesses. It also makes and sells products and technologies that businesses and consumers can use to keep their online communications and transactions safe.
Check Point has solutions for data security, network security, endpoint security, and management. The company sells its goods and services to large businesses, service providers, small and medium-sized businesses, the government, educational institutions, and consumers.
Check Point's "Infinity" Total Protection with Gen V advanced threat prevention protects information in the cloud, on the network, and on mobile devices for businesses. Check Point has the most complete and easy-to-use security management system with a single point of control.
With more than 3,500 security experts, a world-famous research and intelligence unit, and the largest network of business and technology partners, the company protects more than 100,000 organizations of all sizes and in all industries in 88 countries to make the digital world safer and better for everyone.
Check Point sells its products through a network of partners. These partners include distributors, value-added resellers, retail and direct marketing partners, systems integrators, and managed service providers. The company has offices in the Americas, Europe, the Middle East, Africa, and the Asia-Pacific region. The main office of Check Point is in Tel Aviv, Israel.
Amdocs Limited
Amdocs Ltd. is one of the largest companies in the world that makes software for billing, customer relationship management (CRM), and order management. Amdocs unlocks the innovative potential of their customers, giving them the power to make their boldest ideas come true and making billions of people feel like VIPs.
The company makes end-to-end software systems and support services that let telecommunications providers bill, order, and help their fixed-line and mobile phone customers who use more than one platform or service.
Amdocs has also started to offer outsourcing services since the turn of the century, taking over billing, customer service, and customer relationship management for many of its top customers. The company is one of the few in its field that can offer software systems that can handle phone networks with 20–40 million subscribers.
Amdocs used to be based in Ra'anana, Israel, where nearly half of its 8,600 employees and most of its research and development work are still done. It has since moved its headquarters to Chesterfield, Missouri. After one of the biggest initial public offerings of the late 1990s, the company is also on the New York Stock Exchange.
SolarEdge Technologies, Inc.
SolarEdge has come up with an intelligent inverter solution that has changed how solar photovoltaic (PV) systems gather and use power. The SolarEdge DC optimised inverter system makes the most power possible from each PV module while reducing the cost of the energy made by the PV system.
The company makes power electronics for solar power collection and monitoring at the module level. Its system includes power optimizers, inverters, storage solutions, and a cloud-based monitoring platform. It can be used for residential, commercial, and utility-scale solar PV installations.
The company also helps with the whole life cycle of commercial PV projects, from project design and pre-sale to project execution, operation, and maintenance. SolarEdge sells its products to solar installers, engineering, procurement, and construction (EPC) firms, integrators, and distributors.
The company does business in North America, Europe, the Middle East, Africa, and Asia. SolarEdge's main office is in Herzilya, which is near Tel Aviv, Israel.

How diversified is BlueStar Israel Technology ETF?
BlueStar Israel Technology ETF is not very diversified. It has a high concentration in the technology sector, and the rest of its holdings are concentrated in healthcare and financials.
The fund's top ten holdings make up about 60% of the portfolio. This means that the fund is highly concentrated in its holdings, which can be a problem if those holdings fall out of favour with investors.
As an emerging market, Israel's economy is highly dependent on foreign investors for growth. As a result, it's important that this fund invest in companies that are not only Israeli, but also multinational and global.
Want more diversification to decrease risks? Consider the best dividend ETFs.
Risks and Returns of BlueStar Israel Technology ETF (ITEQ)
We continue our BlueStar Israel Technology ETF analysis with a closer look on the risks and potential return. 
Risks analysis BlueStar Israel Technology ETF
The main risk of investing in BlueStar Israel Technology ETF is that it is only focused on technology companies. The current P/E-ratio is 31. This is relatively high, even after the recent price drop. Yes, tech companies grow fast. But the current environment is uncertain, with high inflation and increasing interest. This might not be the best time to buy this tracker. 
Also, this fund can be exposed to currency fluctuations. Because there are holdings across different countries, investors may see gains or losses due to currency fluctuations between those countries. 
The Israeli shekel has been very volatile in recent years, so this could be problematic if you're not careful about choosing the right time to invest.
The fund tracks an index that includes both large and small-cap stocks, so if you're looking for exposure to only large-cap companies, this isn't the right investment for you.
This fund invests in companies located in Israel, so there is geopolitical risk associated with owning it. For example, if there were an outbreak of war between Israel and another country or group of countries (such as Palestine), this would negatively affect these companies' operations and could result in lower share prices or even bankruptcy for some companies in this fund's portfolio.

Potential annual return of BlueStar Israel Technology ETF
According to Financhill, over the next 52 weeks, BlueStar Israel Technology ETF will have an average historical rise by 22.6% based on the past 5 years of stock performance. However, in our opinion this might be significantly less, even despite the recent price drop. The decade of growth at all cost is over. Value will become more important as interest and inflation rises. According our BlueStar Technology ETF analysis, the fund is mostly focused on tech companies. And technology is often a growth sector with higher valuations. 
We expect an average annual return of approx.. 8 – 12% for the next 10 years. We do not consider ITEQ among the best technology ETFs either. 
Where to buy ETF's?
It is important to choose the best investment platforms. They offer a wide range of ETFs so that you can build a good portfolio. They also have low transaction costs. Some even offer commission-free investing. In the long run, this saves a lot of costs.