Dear Happy Investor, for growth investors it is a tough time. In the past few months, there has been a massive sell-off in growth stocks going on. Looking at my stock portfolio, I've lost tens of thousands of stock returns. How do we cope with this sell-off? It surely isn't fun. However, as happy investors, we should stay optimistic about the long-term growth opportunities of our initial investments.
My advice: look at the facts. Some growth stocks were significantly overvalued and the sell-off is justified. But for others, there seems to emerge an opportunity with cheaper growth stocks.
I've listed 10 beaten growth stocks (in random order). Some have fallen 20% from their previous highs, and others more than 60%.
Of course, the recent sell-off is not a standalone reason for an opportunity. You should also investigate the potential growth prospects of each stock so that you can determine whether the sell-off is justified or not. If not, you might have an attractive buying opportunity for high returns in the long term.
Note: I will not discuss details per stock as I usually do. This is just a list of potentially interesting buying opportunities with unique growth stocks.
Be careful: many of these growth stocks are still relatively expensive compared to past valuations. Stock prices could drop another 20 – 40% if the market is becoming pessimistic.
Growth Stock 1. Teladoc Health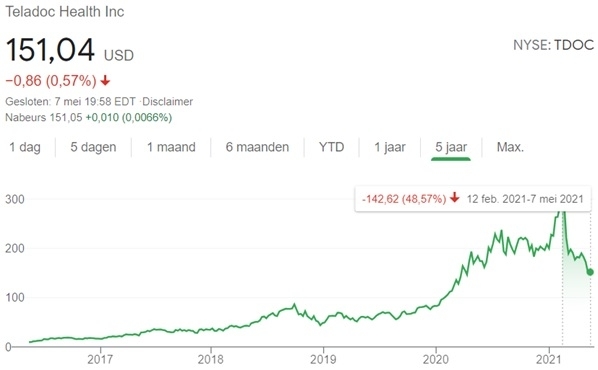 Teladoc Health (TDOC) has been a terrific growth stock in the past few years. More recently, they have acquired Livongo Health. Livongo Health is a terrific company as well. Although acquisitions are very risky, it does give an immense growth boost for Teladoc. As of 2020, the stock has returned +260% at the 52-wk maximum. However, during this sell-off TDOC has fallen by 48%.
At this current moment, TDOC still doesn't make profits. The losses are significant so there is a high risk involved. And her P/S-ratio is still above average compared to the past.
Market cap: 23.3 billion
P/E-ratio: n/a
P/S-ratio: 17.5 (above average)
Earnings Per Share: -$5.94
Let Money Work for You! Starting on the best investment platforms is half the battle
Are you still working hard for your money? Why don't you consider letting the money work for you! Create passive income and attain financial freedom. Starting on the best investment platforms is half the battle. Do you want to know what the very best investment platforms are? Then click on the blue link to compare the best investment platforms now. Here you can read my independent comparison of the best online brokers for stocks, crypto, and P2P. Save money and choose the best investment platform!
Growth Stock 2. Etsy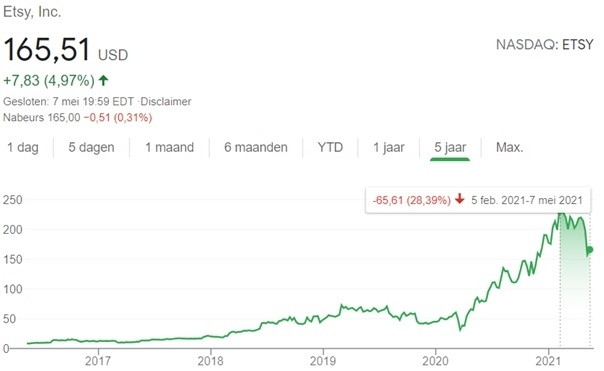 The second beaten growth stock is Etsy (ETSY). It has dropped 28% from her previous high. Still, the stock looks like if it could be very expensive. However, looking at the facts we may conclude otherwise. Etsy may still be a good growth stock that can deliver solid returns in the long term.
Market cap: 21 billion
P/E-ratio: 47 (below average)
P/S-ratio: 10.2 (above average
Earnings Per Share: $3.52
Commission-free Crypto and FOREX Trading with NAGA
Do you want to trade Bitcoin and crypto? NAGA is one of the biggest all-in-one crypto brokers where you can buy crypto 100% commission-free. You can also use the AutoCopy to copy the Top Traders of NAGA. In fact, you can even become a Top Trader yourself and earn up to 10.000 dollars a month if you are really good at it. Anyway, this broker is perfect for anyone who wants to trade crypto 100% commission-free. You can set up an account for free and try it out.
Want to know more? Click for more information
Growth Stock 3. The Trade Desk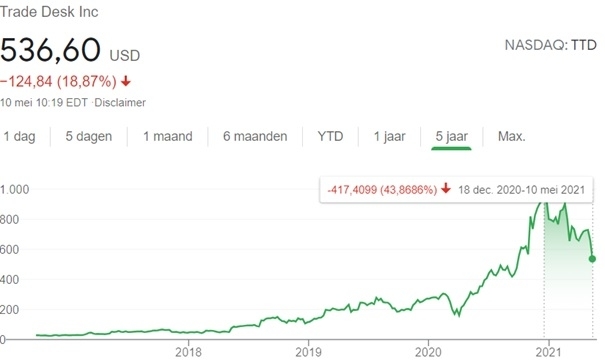 The Trade Desk (TTD) remains to be one of my favorite growth stocks. Now it has become bigger in terms of market cap, the growth perspective has shrunk. But it remains a very strong company with attractive growth in both revenue and profit.
Looking at the facts, it seems that TTD still has room to fall as it is "higher-priced" in comparison to the past. The EPS continues to increase.
Market cap: 25.4 billion
P/E-ratio: 107 (above average)
P/S-ratio: 29.6 (above average)
Earnings Per Share: $4.95
Happy Investors Recommendation: Higher Return and Lower Risk? Tip: Asymmetrical Investing!
What if you could get higher stock returns while having less risk. Sounds too good to be true? It's not if you know how to start with asymmetric investing. These are investments where the potential gain is greater than the potential loss. The only way for asymmetric investing is if you have a lot of knowledge and experience. This is for advanced professionals and is also used in the largest mutual funds with a minimum deposit of millions.
I'm not an expert in asymmetric investing, but I do know a very good party named Capitalist Exploits which I highly recommend. I've joined their Membership one year ago and it brings a lot of value for unique investment opportunities with commodities. I'm talking about +300% gains on Uranium, Copper, Agriculture, and 60+ buying opportunities. The Membership brought me a significant return on investment! These are true professionals. In addition, they also have a free newsletter where they share masterful tips and research on asymmetric investing with us once a week.
Want more information? read my full Capitalist Exploits Review and Experiences
Growth Stock 4. Twilio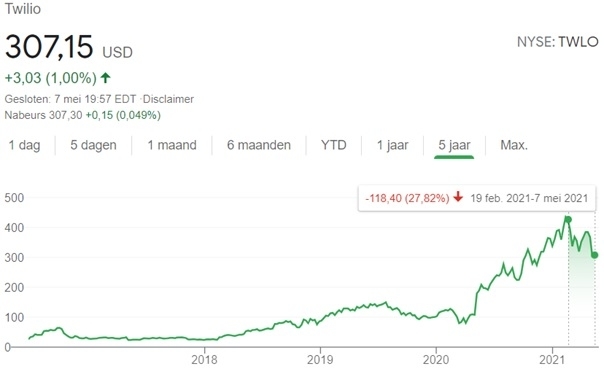 Twilio (TWLO) is a popular stock these days. The company has a relatively high market cap. What concerns me, is that they still have huge losses. Their net margin is -30% and it seems not getting any better. On the other hand, they have very impressive Y-o-Y growth figures. So the question for Twilio is: can they keep up their growth rate and become a profitable business soon?
Market cap: 53 billion
P/E-ratio: n/a
P/S-ratio: 26 (above average)
Earnings Per Share: -$3.35
Growth Stock 5. MercadoLibre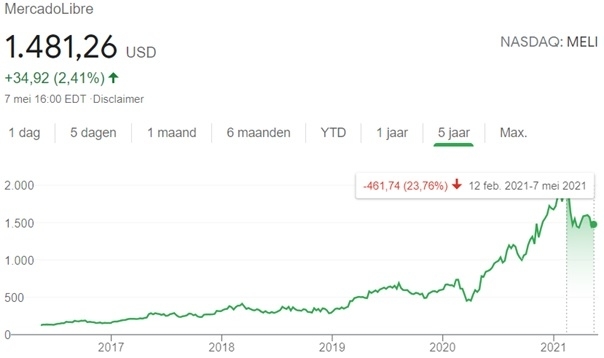 Many investors believe that MercadoLibre (MELI) is the next Amazon. This company has strong Y-o-Y growth and keeps growing. Looking at the figures, it is not that expensive in comparison to past valuations. There is still room to fall, but perhaps less than we think.
PS: many investors consider Amazon as undervalued at this moment. You might want to take a look at this stock.
Market cap: 73.6 billion
P/E-ratio: n/a
P/S-ratio: 15.6
Earnings Per Share: -$0.08
Growth Stock 6. Coupang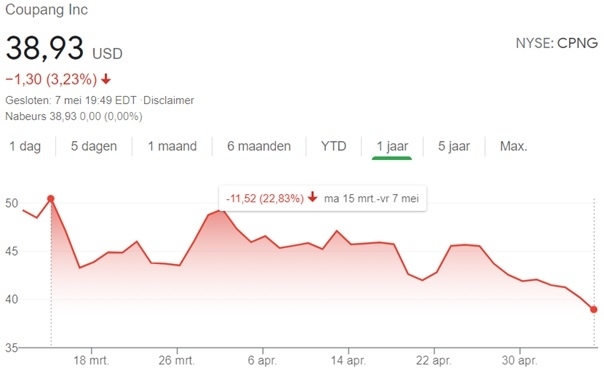 Coupang Inc. is, just like MercadoLibre, an e-commerce giant. They are operational in South Korea, where they face some serious competition. This company had its IPO recently, and since that moment it has fallen by 21% (speaking of unlucky timing). We can't value Coupang based on her past performance. However, comparing it to MercadoLibre does indicate that Coupang could be a cheaper stock. Of course, this says nothing about the future revenue and profit growth prospective.
Market cap: 66.7 billion
P/E-ratio: n/a
P/S-ratio: 5.6
Earnings Per Share: -$0.33
Growth Stock 7. Palantir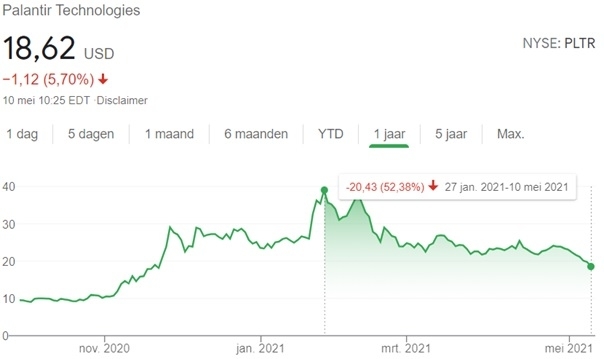 Palantir (PLTR) is another IPO stock with 52% down from her previous high. Many investors are bullish on this stock and signal to buy. In the coming days, they will launch their quarterly reports. The main question is if Palantir will be profitable.
Even after a 43% drop, the valuation is still very high in my opinion. But yes, Palantir is indeed a unique company.
Market cap: 34.8 billion
P/E-ratio: n/a
P/S-ratio: 32.6
Earnings Per Share: -$1.20
Growth Stock 8. Redfin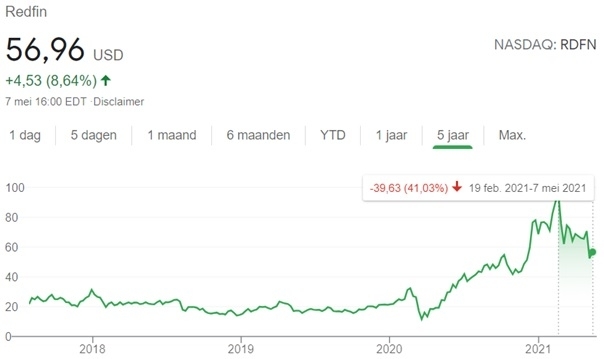 Another beaten growth stock is Redfin. The stock price is 41% lower than her previous high. Redfin has reported strong First Quarter 2021 financial results. There are no clear signs that the real estate market will shrink in the coming years. So yes, Redfin might be an interesting buy opportunity. Especially when the stock price continues to fall.
Market cap: 5.8 billion
P/E-ratio: n/a
P/S-ratio: 6 (slightly above average)
Earnings Per Share: -$0.23
Growth Stock 9. Poshmark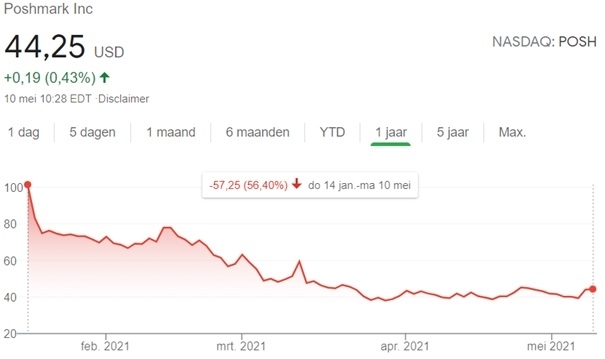 Poshmark (POSH) is a very beaten growth stock. Since her IPO the stock price is down by 56%! Looking at the chart it could be that the stock has reached its bottom. However, if the recent market sell-off continues, then POSH will likely continue to fall as well.
Market cap: 3.2 billion
P/E-ratio: 794
P/S-ratio: 12.3
Earnings Per Share: $0.06
Growth Stock 10. Jumia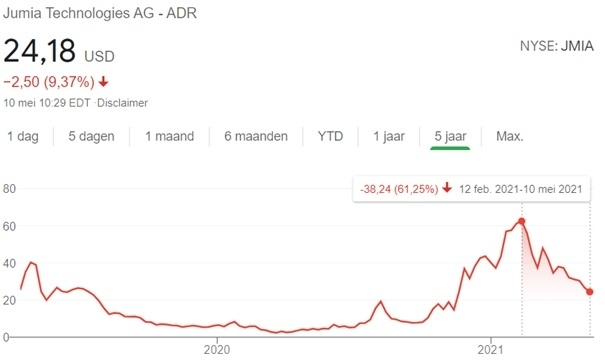 Jumia (JMIA) is a very speculative growth stock in my opinion. It could be the next Amazon of Africa, or it could be nothing at all. It was highly overvalued at her previous high. The 61% stock price drop is certainly justified. At this moment it could be an interesting buy opportunity for the very long term, although I personally would not invest in this speculative stock.
Market cap: 2.17 billion
P/E-ratio: n/a
P/S-ratio: 14.44 (average)
Earnings Per Share: -$2.41